Following the devastating earthquake that shook the nation of Turkey and Syria, where countless lives have been lost, stories are emerging from the rubble.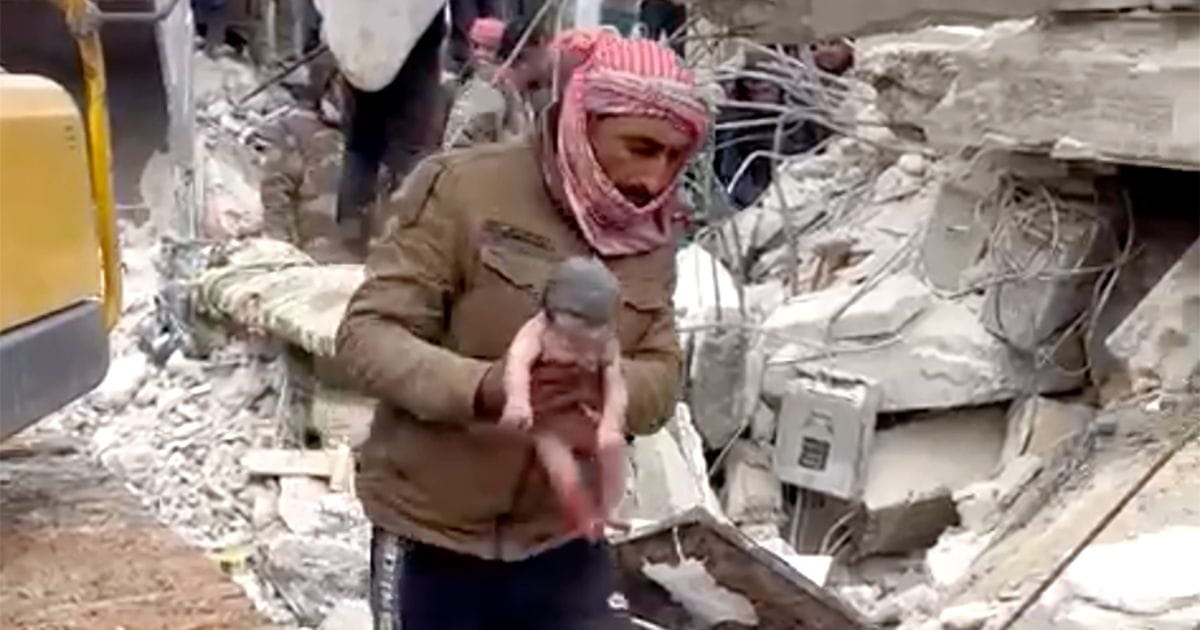 One such story is of a 'miracle baby', who was found alive, buried under rubble, in Jinderis, Syria, still attached to the umbilical cord. Afraa Abu Hadiya, the mother of the infant, appeared to have been giving birth to her daughter while the earthquake happened and tragically passed away during the earthquake right after she delivered the baby.
The bodies of other family members were also recovered at the entrance of their five-story home. They were reportedly trying to escape the house when tragedy struck but unfortunately, they couldn't make it.
According to Dr. Hani Maarouf, the baby was likely born three hours prior to being found by rescuers, and he said that had there been a delay, even for an hour, she would not have made it given the elements she was exposed to.
WATCH: Rescue Team Finds Newborn Alive In Rubble After Syrian Earthquake
Pregnant woman gives birth while buried under rubble in #Syria. Newborn baby is rescued,but the mother 'tragically loses her life' following devastating #earthquake pic.twitter.com/RAXOUL9m4Y

— Smriti Sharma (@SmritiSharma_) February 7, 2023
According to Khalil al-Suwadi, a cousin, he said, "We heard a voice while we were digging. We cleared the dust and found the baby still attached to the umbilical cord, so we cut it, and my cousin took her to the hospital."
The infant suffered from some bruises on her back but appeared to be moving freely, so any spinal injury has been ruled out.
Let us continue to pray for the infant, her family, and all the millions of people affected by this tragedy. And for the success of all ongoing rescue efforts, so that those who are being trapped inside will be rescued on time and that all the humanitarian efforts be successful.