Brittani Jernigan loves to document her daughters' "firsts" and share it on social media. The California native recently went to Baskin Robbins ice cream parlor, and shared a clip of her youngest daughter Blakely.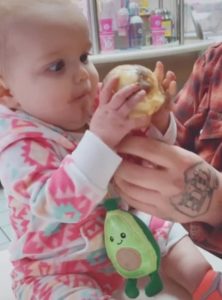 Blakely is 9 months old and when Brittani and her husband Derek Jernigan stopped at Baskin-Robbins to give Blakely a taste of some ice cream, her reaction was epic.
Derek holds Blakely on the table top as Brittani recorded the first moment her daughter tasted the ice cream cone.
Her first reaction was a startled reaction to the cold treat, but once she she got used to the taste, she seemed over the moon.
View this post on Instagram
Blakely's eyes looked widened and then she holds the ice cream cone with both of her little hands and gobbles it. Her parents are amused and laugh as she holds the cone as close to her mouth as she possibly can.
Derek was worried about his little daughter eating up his entire ice cream cone when he only offered a taste of it, as he can be heard saying, "Blakely, let go. Let go," he implores, but the baby doesn't seem to be listening.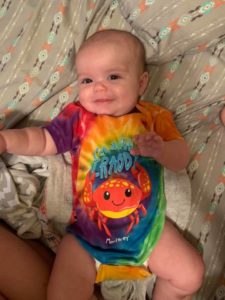 This little baby is not giving up the ice cream once she has tasted the creamy goodness, and has the internet in splits at her antics in the video.