Virginia firefighters were surprised when they discovered a Bible utterly untouched by a fire that had entirely destroyed car in Rustburg.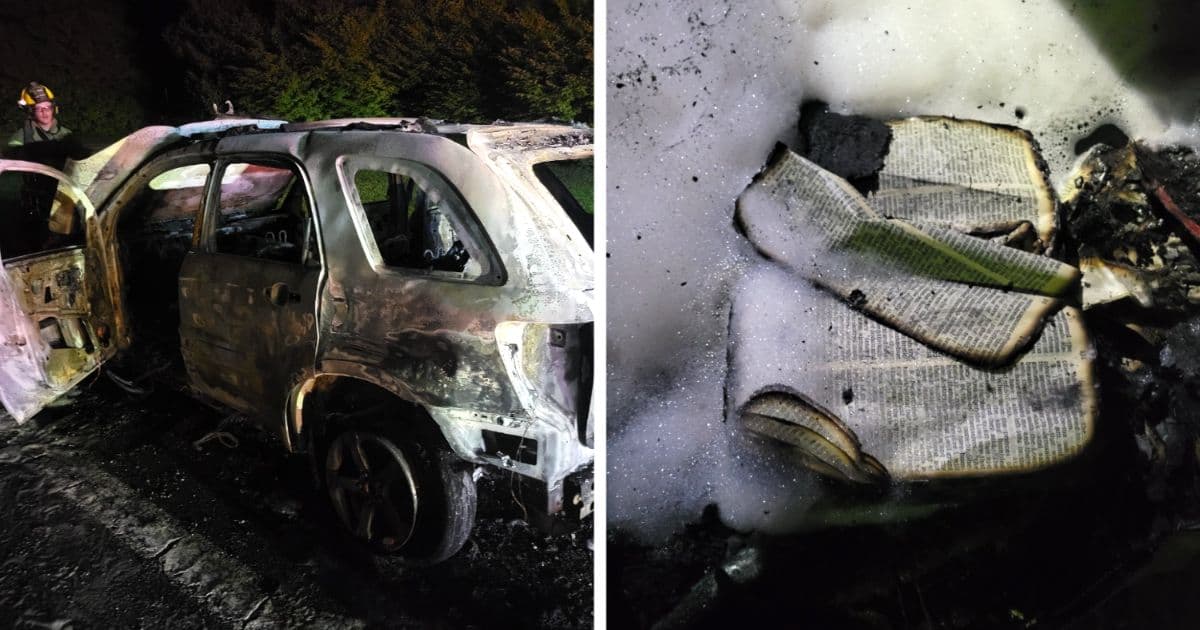 The department shared photos of the burned-down Chevrolet Equinox and the Bible inside the car but escaped any damage. "If you look at the fire damage of the car, it is burned out," the department wrote in a Facebook caption. "But inside was a Bible still intact and mostly unburnt."
Lieutenant Eric Spitzer from the department gave a detailed interview about it to WSLS-TV, where he said that the fire had destroyed everything in the car except the Bible. Praise the Lord!
He said, "It burned everything inside of the car, the exterior, the tires off of it, it's down to the rim," Spitzer said. "It's nothing but a shell of a car left."
Many people who saw the image commented on it; one person wrote, "Wow," while others thought God was speaking to people through this incident. Someone asked which chapter of the Bible was open to when it was found.
"The main page on the right is opened to 2 Chronicles 12," someone called Jeri wrote. "The folded page in the middle is opened to 1 Chronicles 29."
Lieutenant Spitzer believes that he's not alone when fighting fires. "I feel God is protecting firemen at scenes," he said. He added that he believed God had sent help to the car driver and saved her life.
Someone behind the car had flashed lights while she was driving to let her know the car was on fire, a lifesaving act. "I felt [God] maybe protected these people," the fireman said. "They were alerted there was a problem."
It's not by chance that the Bible and the driver were saved from this blazing inferno; God's hand was at work here and everywhere where there is faith.
Isaiah 40:8 ESV "The grass withers, the flower fades, but the word of our God will stand forever."