When Heather Lovell did not see her 9-year-old son Kade pass by the St. Francis Franny Flyer 5K route in Sartell, Minnesota she began to panic.
She was asking everyone to help her find him, including a fireman, she said, "I was bawling. This had never happened before."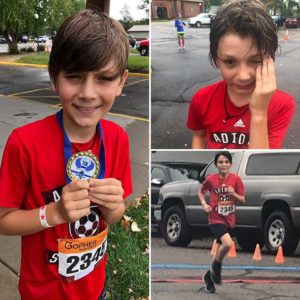 A volunteer had apparently directed Kade to go the wrong way which confused him, but a spectator told Heather that they'd seen Kade on the 10K course and that he was running very well.
Kade soon realized he had made a mistake and wanted to make it back asap as "his mom was going to yell at him."
"I thought my mom was going to be worried, and when she gets worried, she starts to get a little angry," Kade said as his mom laughed in the background. "So, I thought she was going to be worried and a little angry."
He ended up winning the race with a time of 48:17.4. When Heather was told Kade had won the race, she was like 'First in his age group?'" Heather recalled. "And she was like, 'No, first overall!'"
Kade had never gone above the 6.2 mile race in practice and was shocked when he won the 10K. "It was an emotional roller coaster," Heather said. "First I'm scared, then I'm angry, then I'm excited when we found out he wins, and you're just relieved, too," she said.
The fear of his mother actually helped Kade do better than normal and he ended up winning a 10K race which would never have been possible.