This grandfather wanted to share a meal sitting next to his late wife's memorial, during his granddaughter's wedding ceremony is warming hearts all over the country.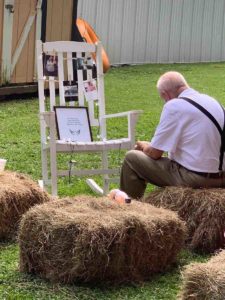 The picture of Billy Gray, 71, was shared by his granddaughter Sahrah Elswick of West Virginia.
"I couldn't really imagine having a wedding without them there," Elswick said of her grandparents. "The people on the memorial were very important people in mine and my husband's [lives] and even if they couldn't physically be there, we wanted them to be a part of it in some way."
Elswick made the memorial with the photos of loved ones, her husband Zachery and she had lost. She lost her grandmother, Barbara Gray, in May 2017. The couple were were married for 45 years.
She captioned the image on Twitter as, "Pawpaw sat and ate with mawmaw today at my wedding," and it managed to get 177,000 likes with more than 500 Twitter users reacting to it saying that they were touched by it. Elswick said she was surprised by the attention the photo received.
What heartwarming beautiful thing. Actions speak louder than words. I don't even know him but just by that gesture what a wonderful man he must be. I hope your wedding was amazing knowing she was there with you and he made her feel that way as well.❤

— Annemarie (@amd7394) July 8, 2019
Our hearts are touched with this beautiful story, and it just reminds us that we need to spend more time with our loved ones while on earth.