A young boy became proof that miracles do happen in this age and time when he had a close encounter with death.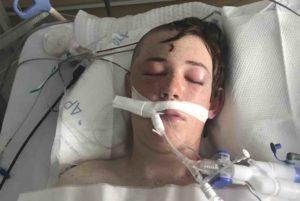 The 14-year-old boy from Manatee County, Florida, survived a fishing accident which left him with a boat anchor lodged in his head. Caleb Bennett was out fishing with his brother and a group of their friends, when the boat's raised anchor suddenly swung towards them, hitting him in the head.
"The anchor had slipped off the boat and it went into the water and was slingshot back into the boat where it penetrated Caleb's right frontal lobe 2.78 inches," his mother Kelli said. The teen did not panic. Instead, he carefully instructed his friends to call for help, knowing that the situation could become deadly at any moment.
"I didn't want to pull it out because I thought it might bleed more," he said. "Eventually, it fell out and then I put pressure on it and held my head up. I just stayed calm. I told my friend, 'Hey, you need to call 911 or I'm going to die.'" Caleb blacked out and woke up in a hospital bed to find out that he had been airlifted to a hospital for emergency brain surgery. The doctors opined that he would ever be able to walk or speak again. They performed partial craniotomy surgery on him and put him in a medically-induced coma which likely saved his life.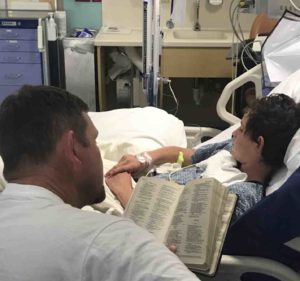 Luis Rodriguez, pediatric neuro surgeon at John Hopkins All Children's Hospital said, they needed to take out a big piece of skull and try to take out the pieces of bone and whatever else he had in there from the anchor. "And more important, give his brain space to swell because that's what was going to happen." His parents were unaware about the happenings with their son because they were celebrating their wedding anniversary in the Bahamas.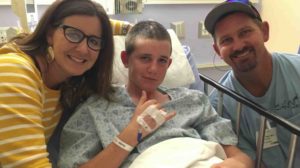 When they received a phone call about the accident, they immediately rushed home. "When I first saw Caleb, I thought I was going to be sick," Kelli Bennett said. "It's very hard to see your kid hooked up to every tube, to see that stand with seven to 12 different medicines going in his body." She said, "Needless to say, I kind of lost it." But now after getting treatment, Caleb is fine and much better than anyone could imagine. Scans showed that the anchor had miraculously avoided critical blood vessels that might have caused severe damage. "It's a real modern-day miracle that I am alive," Caleb said.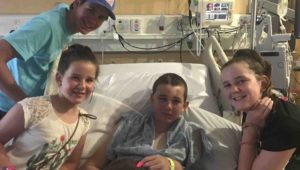 "He should've died right where he stood," Caleb's father, Rick Bennett said. "Even if this is our cross to bear for a while or indefinitely, it's better than the alternative." The teen is continuing to heal, as the family celebrates his incredible recovery, with support from the community. "We are so thankful for, I call it our people, here in Bradenton that just have surrounded us and loved us," Kelli Bennett said. Caleb's fellow fishermen in the area held a special fundraiser to gather money for medical bills, and friends and neighbors flooded in to bring food and prayers for a quick recovery.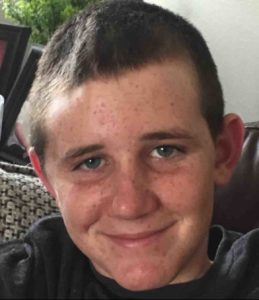 Though he is still needing more treatment, Caleb says he knows he wouldn't be here if it wasn't part of God's plan for his life. "I shouldn't be standing here today. God definitely has a plan in my life." He added "I can't believe I had an anchor in my head. Like, that's pretty crazy. My friends now call me the 'Anchorman' so that's kind of cool." But no one can change his love for fishing as he says, "I still love fishing," the teen declared. "Nothing will ever change that."
What a wonderful story of hope and a future Caleb has really experienced a miracle from God. Jeremiah 29:11, "For I know the plans I have for you," declares the LORD, "plans to prosper you and not to harm you, plans to give you hope and a future."