After years of emotional ups and downs trying to start a family, Graham and Stephanie Freels have received what they call a miraculous answer to their prayers. The Washington State couple welcomed quintuplets into the world on June 4, an extraordinarily rare occurrence that has turned them overnight into a bustling family of seven.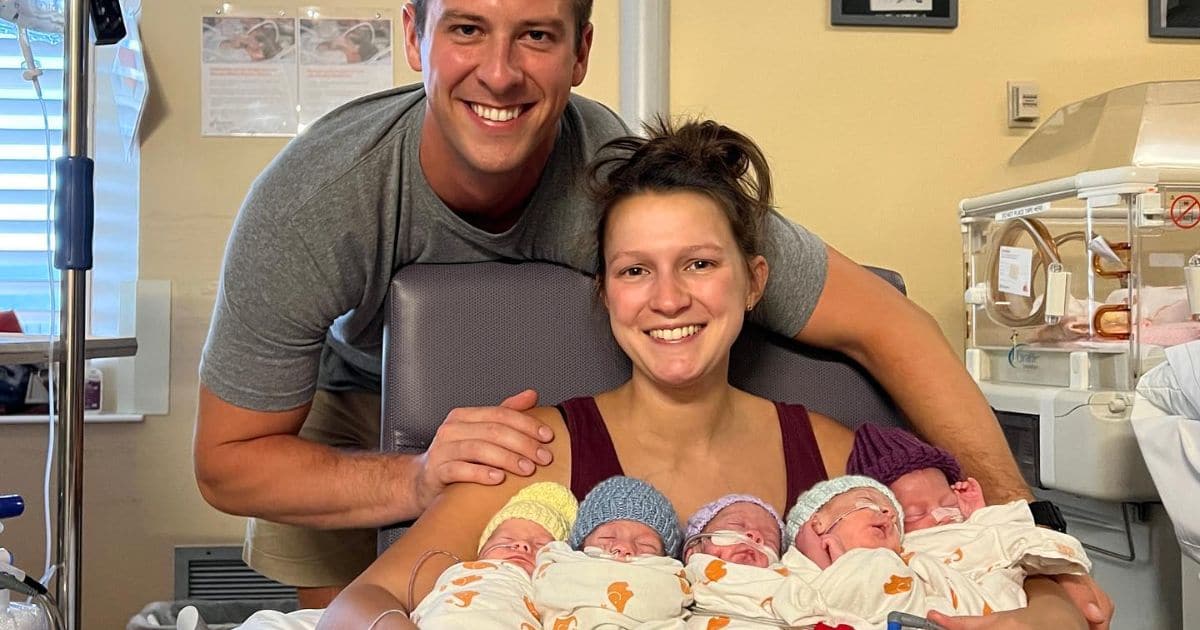 The Road to Parenthood
Graham and Stephanie married in 2017 and had dreams of becoming parents ever since. Stephanie underwent surgery to remove a cyst shortly after their wedding, but despite their best efforts, the couple found it challenging to conceive. On December 23, 2022, however, they received news that filled their hearts with joy. Stephanie was pregnant. "For years, we had prayed that God would bless us with children," Stephanie said. "And now it was finally coming true! I've always wanted a large family, but I could have never imagined it would happen all at once."
An Unexpected Blessing
Upon further testing, doctors discovered that Stephanie's hormone levels indicated a multiple-birth pregnancy. It turned out that they were expecting not just one, but five babies. "It was one of the craziest moments of our lives," Stephanie explained. "We were so excited and confident that God had purposefully entrusted us with these five precious babies. However, we also knew there were serious risks to carrying quintuplets."
To ensure the best medical care, the couple relocated from Washington State to Phoenix, Arizona, where they were placed under the care of Dr. John Elliot, a specialist in pregnancies involving multiple births.
The Arrival of the 'Freels Five'
Stephanie gave birth to the quintuplets—four girls named Adelyn, Eliana, Linnea, and Harper, and a boy named Fisher—on June 4 at Phoenix's Dignity Health St. Joseph's Hospital and Medical Center. Because the babies were born 13 weeks premature and weighed less than two pounds each, they remained in the hospital's Nursery Intensive Care Unit for 11 weeks. Miraculously, none of the quintuplets experienced any setbacks or complications during their stay.
The hospital's NyICU nursing team even enabled Stephanie to hold all her children at the same time. "It was a moment I will forever cherish," she said. "I am so thankful to the NyICU nursing team for giving me this experience."
A Faith-Filled Journey
Throughout this challenging and unpredictable journey, the Freels always felt that God was watching over them. "I was absolutely terrified, but God was with our family through it all," Graham said.
The couple is now back home, grateful for the unexpected yet miraculous expansion of their family. "So many people have prayed for us and our family throughout our journey and NyICU experience," Stephanie shared. "We are so grateful that so many prayers have been answered and we are looking forward to creating new memories as a family of seven."
As they adjust to life with their five new additions, the Freels remain steadfast in their belief that faith and trust in God can bring about miraculous outcomes—even ones as extraordinary as quintuplets.
"For this child I prayed, and the Lord has granted me my petition which I asked of Him." – 1 Samuel 1:27
WATCH: Freels Couple Holding All Five Babies for the First Time