After a tornado swept across Kentucky recently, the building this man was working on collapsed, leaving him trapped under the rubbles and debris. "God will work it out, be strong, don't give up"— these were the words of a worried wife to her trapped husband over the phone.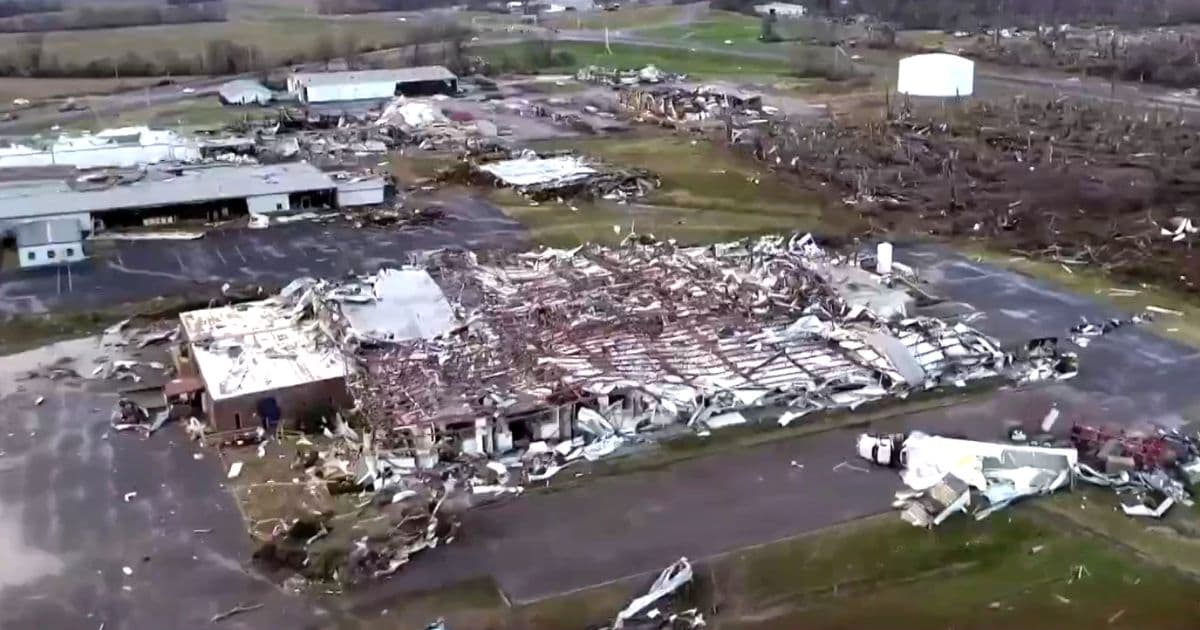 Mark, 37, was under the rubbles and debris after Mayfield Consumer Products factory collapsed and was ripped apart by a tornado. His wife, Courtney, 38, narrated how horrible her husband's situation was. "He was calling us hollering and screaming and crying because he was stuck," she told The Associated Press. "It was scary for me because I'm thinking, 'Oh my God, is he going to make it? So I prayed with him over the phone, too. I just kept talking to him, kept telling him that God will work it out, be strong, don't give up, keep fighting."
In Mayfield, mounds of debris from buildings, shredded trees, downed power lines, and wrecked cars were on the streets. Windows and roofs were blown away from buildings that remained standing. Governor Andy Beshear of Kentucky said that more than 70 people may have died when the tornado hit. But it can still increase to more than 100 across ten or more countries, according to an ABC News report.
"I really didn't think I was going to make it," Mark said. "If you see the people that were beside me … I can't believe I'm even here." Unfortunately, he lost his cousin, Robert Daniels, to the tragedy.
"Tiles and concrete started falling. Walls imploded," this grateful survivor told NBC News. He was even at one point, picked up and moved by the tornado. "Everyone started running, so I just dropped to the ground. I got in a fetal position, and the concrete slab fell on top of me." Thankfully, he sustained minor injuries and bruises only.
Everything happened so fast. Mark was looking at the window when he saw the tornado approaching. He tried to run away, but it was too late. It hit the building quickly and forcefully.
On the other hand, Courtney and their kids also faced the tornado. She and her five kids crouched down low in their bathtub as the twister passed by and ripped the roof off their house. "They were scared, screaming, crying. It was awful," she recalled. "I was trying to calm them down, but the whole time I'm praying. I knew that God would see us through."
In both circumstances, God saw them through. He protected them from further harm and preserved their lives. They may have lost a lot of things, but experiencing His grace amid adversity is a great blessing.