Amidst the chaos and tragedy caused by the devastating tornado that swept through parts of Mississippi, last week. A Christian meteorologist's prayer is being credited with saving lives and bringing comfort to those affected.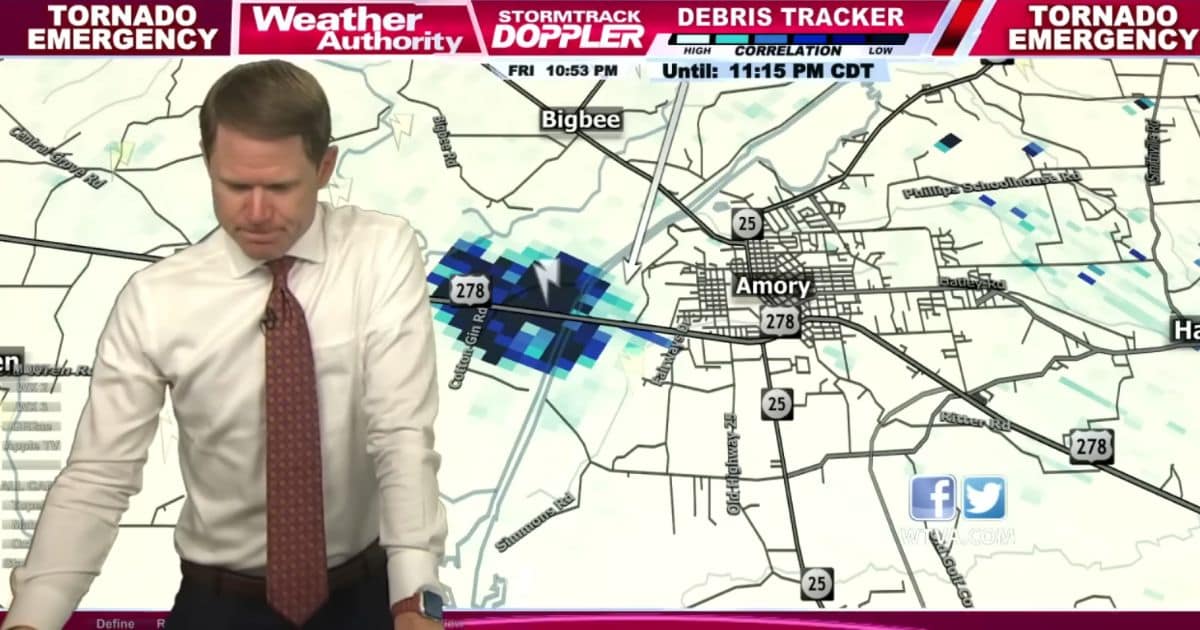 Matt Laubhan, the Chief Meteorologist at WTVA-TV, was delivering a storm report on Friday night when he saw the severity of the incoming tornado. With a worried sigh, he paused and said, "Dear Jesus, please help them. Amen." The video of his prayer quickly went viral, with many people thanking Laubhan for his care, compassion, and willingness to turn to God on behalf of others.
Residents of the small town of Amory, Mississippi, where the tornado hit moments after Laubhan's report, are among those who credit the meteorologist with saving their lives. They are expressing gratitude towards the meteorologist for his concern, empathy, and decision to ask God to help those in need.
Resident, Leah Ann Hubbard said Laubhan's tone and tenor were different from the norm, and his intensity of warning led her to take shelter. "He saved lives, for sure," she said. Hubbard later surveyed the damage, which she described as "like an apocalypse."
Dean Hirasawa, who commented on a YouTube video of Laubhan's prayer, said, "I may not be a Christian, but this was a heartfelt prayer from a [meteorologist] who knew this was possibly a mile-wide EF-4 that had destroyed two other towns in the past hour." And Darin Hyden wrote, "We need more people like this in broadcasting. God bless you, sir!"
Laubhan, however, didn't stop just with his on-air prayer. Last Sunday, he posted a Bible verse and an encouraging message to those hurting amid so much loss on Instagram. "Faith shows the reality of what we hope for; it is the evidence of things we cannot see," he wrote, quoting Hebrews 11:1. He went on to say that even though the damage is severe, "the goodness of God WILL prevail."
"So many are hurting tonight and my heart breaks for you. I was blessed to learn this "memory verse" with a bunch of kids, praising God and lifting up those who are hurting tonight in prayer. Things won't instantly be better, but surrounded by the loud, young voices of these 3rd-5th graders, I know for a fact that God will be faithful in this time of great pain and heartache and that even though the damage is severe, the goodness of God WILL prevail."
Tragically, the tornadoes that Laubhan reported about have caused significant loss of life and widespread damage. But in the midst of the devastation, Laubhan's actions remind us of the power of a single prayer and that goodness and faith can be found in the midst of tragedy.
WATCH: Meteorologist Prays On-Air Before Deadly Tornado