A State Trooper is winning hearts for reuniting a little boy with his favorite stuffed toy.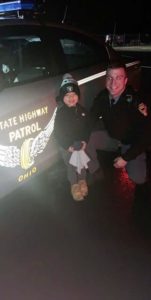 The boy's mother shared the story on Facebook where Ohio State Trooper, Alex Schlottag, 24, helped reunite the boy with his stuffed animal which he lost on a highway.
Leah Sharkey was driving with her 3-year-old son, Camden, with his favorite rabbit "booboo" in tow. She took a wrong turn and that's when Camden "decided to put booboo out the window going 77 miles per hour on the Ohio turnpike," she wrote.
The error left little Camden inconsolable after losing his plush friend. Sharkey tried desperately to find it by backtracking but that was in vain.
A half-mile back, they met State Trooper Schlottag who asked her what the problem was, and after she told him about the ordeal, he took down her number and said "he'd double back to see if he could find booboo," says Sharkey.
Thirty minutes later, Schlottag called back to say he had the stuffed toy with him and asked to meet up with them. "THANK YOU SO MUCH TO OFFICER ALEX SCHLOTTAG OF THE OHIO STATE PATROL, you have no idea how much it meant to him and i both, we will never forget this," wrote the grateful mother on Facebook.
The Ohio State Highway Patrol also shared a Facebook pic of Camden holding "booboo" and it's noteworthy to say that Schlottag had already been named Ohio state highway patrol post's 2019 trooper of the year earlier in the month.
This incident has proved yet again that our law enforcement officers never see any situation as less or more but always rise to the occasion to carry out their responsibilities towards the people.