A nonagenarian is inspiring many people around the country after she ditched her walker and wore her dancing shoes to celebrate the end of her therapy.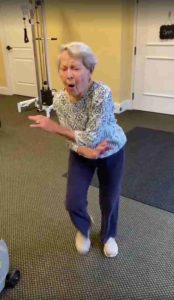 Julia Lewis, 91, is a resident of Magnolia Springs Southpointe in Indianapolis, Indiana. It was established in 2009 and it's mission, as described on its Facebook page, is "to enrich our residents' lives by fostering a culture and creating a community where everyone we serve is celebrated." It continues saying, "Who says moving to a senior living community means giving up your sense of independence?" the description continues. "Magnolia Springs embraces the fact you are your own person, different, unique, one-of-a-kind — with your own lifestyle, pursuits, and hopes for the future."
Lewis has been going through physical therapy with Golden Age Home Health Care and is making great improvement in her health condition. Infact, she felt so good after her physical therapy this week, that she let go of her walker and got down to "Jailhouse Rock," delighting everyone looking at her.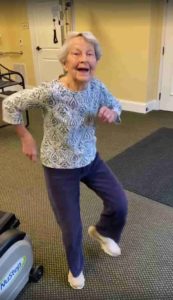 A video now gone viral of her dancing was shared by Golden Age Home Health Care. "When they say they 'celebrate life' at Magnolia Springs Southpointe, boy do they mean it!" Golden Age Home Health Care shared on social media. "Miss Julia is a long time resident, who recently returned from a hospital stay and is graduating from therapy services with Golden Age."
Watch: 91-Year-Old Woman Celebrates End Of Therapy
The post further said, that Ms Lewis has ditched the walker in favor of her dancing shoes, and told them this morning, 'You've got me feeling so good, I want to dance! Do you mind if I do the jitterbug to celebrate? I'm loving life!'" It added, "Of course we don't mind, Julia! We love it and we're all celebrating with you! Did we mention she's 91 years young?"
Lewis obviously has a background in dance as she told them that it was the way they expressed themselves since she was a young teen. Facility staff said Lewis was "quite the dancer back in the day" and "cut class more than anyone you've ever known" so she could go dancing instead.