A South Florida priest is warming hearts all over the country with a spirited performance at a high school dance.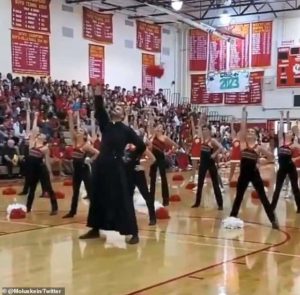 Father Ricardo Rivera joined in the dance routine halfway through at the homecoming prep assembly at Cardinal Gibbons High School in Fort Lauderdale, Florida. He received a loud applause from the students.
The clip shows the dance team and cheerleaders lined up across the basketball court at the school. As they began their routine, Father Ricardo, dressed in a black priest robe with his collar, walked up to them stretching out his arms wide.
He got in line with the dance team and faced the crowd and perfectly hit all the arm movements and doing fast steps with the rest of the dancers.
Watch: Father Ricardo Rivera Ortiz dancing with high school students
The priests at my high school didn't move like this.
👏🏻 padre!@Moluskein writes: Father Ricardo Rivera Ortiz of Adjuntas, Puerto Rico is dancing with students of Cardinal Gibbon Hight School, in Fort Lauderdale where he works as a priest
pic.twitter.com/n0m3NzSbMk

— David Begnaud (@DavidBegnaud) October 26, 2019
Father Ricardo got a roaring applause as he nailed the dance moves in front of his students. 'There's nothing like a #Gibbons pep rally! #DancingPriest,' the high school wrote on its Twitter page when sharing the video of the priest.
He was nicknamed as 'dancing priest' by the students and school and seems like his dance career has just kick-started and this might not be his last one.