Ms. Fitz uttered a short prayer before attempting to shoot a three-pointer because her excited students were already waiting for their hot chocolate drinks.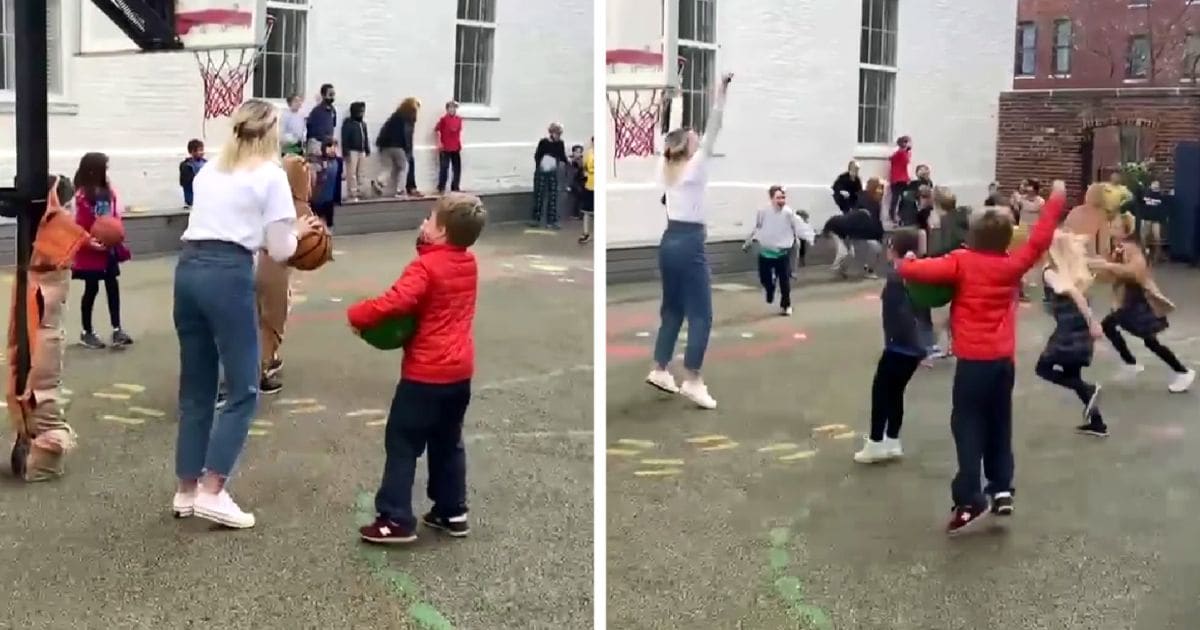 Kathleen Fitzpatrick, fondly called Ms. Fitz, is a 3rd-grade teacher at Holy Trinity School Georgetown in Washington, D.C. She had a bet with her students that she would treat them to hot choco drinks if she would be able to shoot a three-pointer on their school's courtyard.
The kids were eager to find out if Ms. Fitz would be able to do it. Fortunately, she did it excellently! All kids broke into cheer when they saw her perfect three-point shot. Everyone jumped with joy, and one even hugged her tightly. Just like a small child, their Ms. Fitz also jumped with joy.
It was just a piece of cake for this Division I NCAA athlete who played women's basketball for her former schools–Saint Joseph's University (2013 to 2016) and Rutgers University (2017 to 2018). Her students did not know that their teacher played guard in basketball and was used to challenging shots.
Watch: 3rd Grade Teacher Makes An Amazing 3-Point-Shot
Ms. Fitz threw a Hail Mary and promised all the 3rd graders hot chocolate if she made the shot. Well, God was looking out for her … 😉 🙏🏽 Frigid last week of school, here we come! 12/23 ADDENDUM: We are overwhelmed by the messages and comments we have received and feel blessed that Ms. Fitz gave us permission to share this video, which has brought a smile to so many people all over the world. Many people have asked us if they can donate to the school. We gratefully accept donations of any amount and will use all of them for student financial aid and scholarships and to support the The Father McKenna Center, which provides services and shelter to our homeless neighbors. Please go to https://trinity.org/hotchocolateshot to donate or send a donation via Venmo to HTS-Georgetown. Thank you, and keep spreading joy! Sincerely, Holy Trinity School, Georgetown #ADWCommUNITY #hailmaryshot #hailmary #basketball #hailmaryball

Posted by Holy Trinity School Georgetown on Sunday, 19 December 2021
The class had their hot chocolate party last December 19, several days before Christmas. "I was so excited to have a hot chocolate party myself," Ms. Fitz told SportsCenter.
A random stranger recorded the 33-second video clip and posted it online a few days back. It was shared on the school's Facebook page, and it has attracted a lot of attention since then. Rutgers University women's basketball team recognized their former student-athlete from the viral post and commented, "We knew that follow-through looked familiar. Ms. Fitz was a Scarlet Knight! #GoRU!"
We knew that follow-through looked familiar …

Ms. Fitz was a Scarlet Knight! #GoRU! https://t.co/Fh0DTFFruv pic.twitter.com/lHFY99cQt3

— Rutgers W.Basketball (@RutgersWBB) December 23, 2021
Many people asked if they could donate to Holy Trinity School when they saw the video. The school will use the donations for its scholarship program and to support Father McKenna Center, which provides shelter and services to the homeless.
A fun game ended up being a great blessing to many! Kudos to this teacher who makes learning enjoyable and cares for her students dearly.
"The smallest acts of kindness can make the biggest impact." -Anonymous