Flying solo for the first time was proving to be a hard task for 16-year-old Ashley as she was born deaf.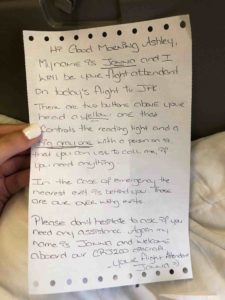 The teen was worried that her lack of hearing would prevent her from listening to the announcements on flight from Baltimore, Maryland to Rochester, New York.
It was even worse for her as she had to take a connecting flight from JFK International Airport, an overly busy airport for even experienced fliers. "I [felt] nervous because … what if I miss my flight or I don't know where to go if I transfer," Ashley said using an American Sign Language (ASL) interpreter. "I mean JFK is such a big airport, so I didn't know where to go."
But the flight ended up being a successful and memorable one for her due to a compassionate flight attendant. Shortly after the plane took off from Baltimore, her Delta airline flight attendant gave her a handwritten note telling her all the details about the flight and safety information.
Ashley said she never experienced kindness like this before and that she intends keeping the note as it means the world to her.
Watch the story below.
Delta airlines responded to the story praising their flight attendant for her communication and announced they were making airline travel for deaf passengers more inclusive. They plan to put special badges on airline staff who speak sign language so that deaf passengers can identify them easily.
"With this improvement, customers and qualified employees will immediately be able to visually recognize when they hold sign language as a common connection," a Delta spokesperson said. This is a great initiative by Delta airlines in making air travel more comfortable and inclusive for deaf passengers.