At an age where one would normal be curled up in bed, a 98-year-old Korean War veteran has been walking 6 miles each way for the past two weeks to visit his sick wife in the hospital.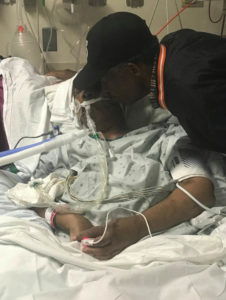 Luther Younger's wife has been visiting his paralyzed wife of fifty years in hospital.
When asked why he does that, he simply retorts that without his wife, he is nothing, and that it has been a rough time for him.
Recently he was found walking in the rain when a passing motorist picked him up.
Dan Bookhard was driving his car when he saw the 98 year old Younger walking in the rain, he said he had to pick him up and that he couldn't simply drive pass him without doing it.
Younger's kids says that walking was a way of life for their dad and that he does it to stay fit and healthy.
One of Younger's kids, Luthta Younger said that he says he doesn't want to be home but wants to go out and be with his wife.
We are amazed at such amazing willpower and zest for life, we pray to God for healing for Younger's wife and to keep both of them together forever.