An elderly lady in the UK was filmed handing out steaming cups of soup to homeless people on the cold streets of London.
The 72-year-old woman has been warming hearts ever since, as she has been faithfully passing out soup to homeless people on cold nights. She can be spotted on the streets night after night, except for Thursdays, wearing a warm winter coat and pushing a small shopping cart and as soon as she sees a homeless person in need, she pulls out a cup of warm soup.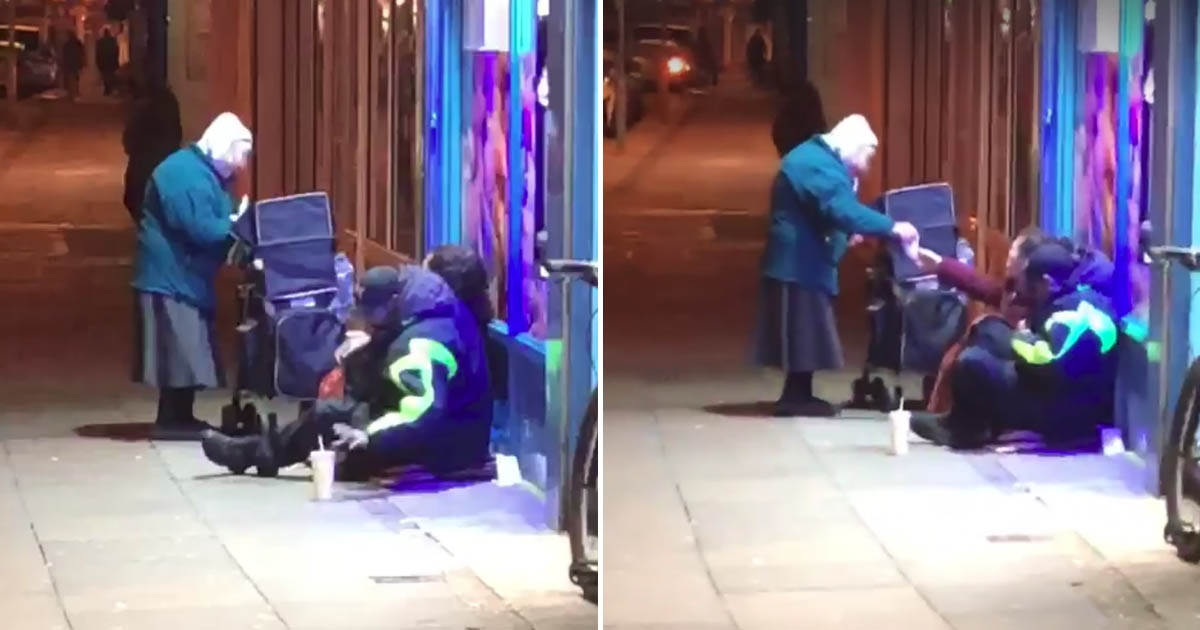 She is a volunteer with a local church, St. Swithuns, and did not think that her regular routine would become so popular online and make her an instant sensation.
It was made possible when on February 13, passerby Charlie Franks spotted Diana in Southsea, Portsmouth, giving out soup to people on a cold frigid night, and talking with them, he posted the clip online writing that his "faith in humanity is restored." Adding, "She makes a load of soup and goes out to hand it to the homeless!" Franks wrote.
Katy Elizabeth, Diane's daughter, said that the 72-year-old mother regularly volunteers with St. Swithuns church, "She's been caught out, she's supposed to tell me and Ian when she goes so we know she is back!" Katy Elizabeth said of her mother.
She is obviously not concerned about herself, but with the health and well being of the less fortunate. "When I saw what she was doing it blew my mind," Franks said. "You obviously hear about homeless people and how bad it is today," Franks said. "So to see someone doing something like this to help really got to me."
He got to know that Diane served soup 6 nights a week, and only taking an off on Thursday. "It was the most selfless act," he said. Franks gave her £20 to help her cause, he says, "but if I had £200 I would have given it to her."
We should do all we can to support this kind old lady with a heart of Gold.
Kind-Hearted Elderly Woman Feeds Homeless In Bitter Cold