Military homecoming videos never grow old, its always the best when a loved one returns home after spending a lot of time away from home.
It had been a while since mother-of-six, Joquina Williams last saw her son, U.S. Army National Guard Sgt. Christopher Williams, it was late last year when he was deployed to Afghanistan.
Williams was looking forward to seeing her son, but never though she would see him on board the sightseeing trolley she drives in Savannah, Georgia. "I was not expecting to see somebody walk on the side of my car," Joquina Williams said.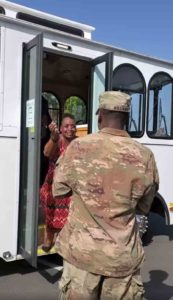 As soon as she saw her her 24-year-old son she was like, "My baby is home." Sgt. Williams was serving the United States military on a seven-month deployment to Afghanistan, said the Georgia National Guard, but now he is close to home as he serves in the Macon, Georgia-based 48th Infantry Brigade Combat Team.
Joquina Williams said her son was in the military since the age of 18, and had expected her son to arrive back home in November.
"He told me had been planning it and a lot of people knew except me," she said in shock. "He's been gone for a while so just seeing him, it was just like it was yesterday."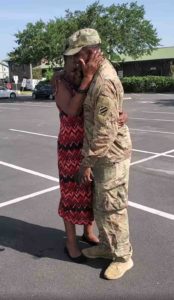 This emotional homecoming video was captured by one of Sgt. Williams' fellow soldiers, U.S. Army National Guard Master Sgt. Meara Brown and has since gone viral.
Watch the emotional Military reunion video below.
SURPRISE MOM! I'M HOME! Sergeant Christopher Williams of the 48th Infantry Brigade Combat Team surprises his mother at work after returning home from a 7-month deployment to Afghanistan.

Video by U.S. Army National Guard Master Sgt. Meara Brown

11Alive WSB-TV CBS46 WTOC-TV WSAV News 3 On Your Side WJCL News CNN WTGS FOX28 Savannah

Posted by Georgia National Guard on Friday, July 19, 2019