Losing a parent is an extremely trying experience for anybody, especially for young kids to endure.
5-year-old Samuel, from the U.K. who was just four-years-old when his dad died due to cancer.
He left viewers on the U.K Channel 4 in awe of his positive outlook on life, even after enduring such a huge loss.
Samuel still remembers his dad, even though he passed away 2 years ago and calls him his "hero."
Appearing on the the show "The Secret Life of 4 and 5 Year Olds," he says, "Sometimes when mum says I can't have chocolates, Daddy then gives them to me," Samuel said.
He went on to tell the other children about his dad. How he carried Samuel on his shoulders when his feet got tired and even where he died.
He said, "When he died, yeah, he wasn't at home, he was in hospital when he died."
Samuel's mom, Beth, says, her husband "fought hard" but lost the fight to cancer, she describes how her son processed his dad's death saying, "It was a pretty difficult time for Samuel, but actually, he dealt with it amazingly and he helped everyone else get through it just by being him."
Samuel has a sister, Elizabeth, who is 13. But strangely he seems to be the one with an old soul. His mom said that "he's just like a little old man but in a funny, little kiddie body." The way Samuel dresses and carries himself will make you agree with her.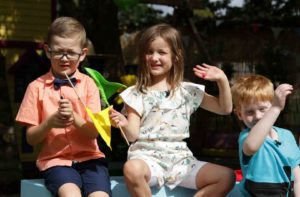 It brought tears in her eyes when she saw Samuel call his dad on his "heaven phone" at the end of the clip.
This little boy who has been through a lot in his little life, even tells his dad he has made it on to the show and is a big example to us of how to be resilient in life when faced with big challenges.