A Michigan couple, Carolyn and Andrew Clark, recently welcomed a baby girl named Audrey, breaking a 138-year-old streak of only boys being born into the family, bringing joy and astonishment to everyone involved.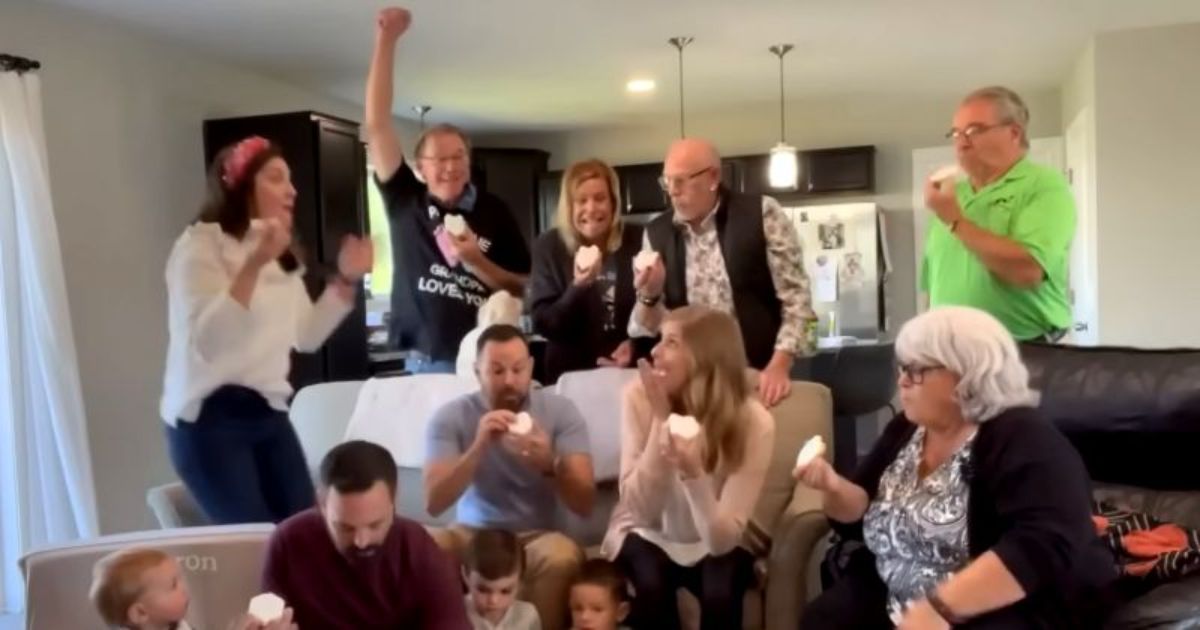 Last year in September, the couple held a gender reveal party and invited their family to participate in a cookie-biting event to discover the gender of their expected child. The family's anticipation turned to surprise when they found out that they would be welcoming a girl, breaking their long-standing family tradition. The family's heartwarming reaction to the incredible revelation was captured on camera as they celebrated the arrival of a little girl. They had expected to see blue, but were surprised when the inside of the cookie turned out to be pink.
"Even when we were biting into the cookie for our gender reveal, we were just expecting it to be blue," Carolyn Clark shared.
Andrew had informed Carolyn before they got married that they wouldn't have a girl due to the long line of male-dominated births in his family. Carolyn, however, initially assumed it was a joke. When the couple had their first child, a boy named Cameron, it seemed like history was repeating itself, as all the boys in Andrew's family also had boys. Carolyn's disbelief persisted until she saw a family tree that showed the last girl being born in 1885.
"I said, 'This does not seem right. I've never heard of this happening before," Carolyn Clark recalled.
"My sister-in-law and I were always saying, 'There has to be a girl at some point, whether it's us or maybe our boys will have a daughter at some point.' So when we bit into [the cookie], I looked at her like, 'Is this pink?' And she freaked out," Carolyn added.
The birth of baby Audrey holds particular significance for the Clarks, as they had previously experienced a miscarriage. Audrey is lovingly referred to as their "rainbow baby," a term used for babies born after a loss due to miscarriage, stillbirth, or neonatal death. Carolyn was scheduled for induction on March 16, but Audrey had other plans and arrived on the morning of the 17th – St. Patrick's Day.
"We just thought that was super special that she is our rainbow baby, and she came on the day of celebrating luck," the grateful mother said.
"So, she's kind of our lucky charm."
"We just wanted a healthy baby, and it was just the icing on the cake that it was a girl. Andrew's brother and his wife are wanting more kids," Carolyn shared, expressing her hope that this happy event will inspire her sister-in-law to believe that "it can be done."