Our police officers go to great lengths to protect us from harm and danger every single day without expecting anything in return. But one officer in DeLand, Florida, received love and encouragement from a young man who prayed for him, asking for safety and protection.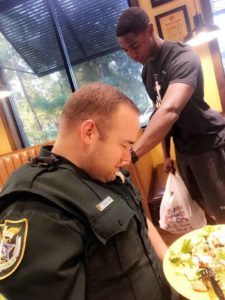 Officer Cameron Tucker of the Volusia County Sheriff's Office was standing at the counter at a Zaxby's restaurant, when a young man named Juan O'Neal started chatting with him as they waited on their meals. At first the officer was casual about their conversation but a few moments later, the 21-year-old came to Tucker's table who was with his wife and asked to pray for him. The officer agreed and O'Neal placed a hand on his shoulder and began to pray.
"Tonight was a night that I will never forget," Tucker's wife, Justine Tucker, wrote on Facebook. She shared a photo that quickly went viral and received thousands of likes and shares. "This picture is a reminder of God's constant love and perfect timing," the post continued.
She continued saying, "After crying my eyes out we got to have an amazing conversation with this gentleman. He was on FIRE for God and you could feel His presence in the room. He said that he had felt compelled to talk to us and to pray over Cameron."
View this post on Instagram
Cameron later said that this encounter meant a lot to him and renewed his faith at a time when he needed refreshment. "We could use all the prayer and help that we can get," he said. "I couldn't be more thankful that he stopped by that day."
View this post on Instagram
O'Neal, a law enforcement officer's son, said he felt God calling him to pray for the Tuckers. "I really just wanted to let him know that I see him and that I appreciate his service, because … my dad has gone through a lot and I see a lot on the news."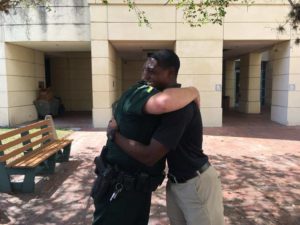 "I just wanted to go and just encourage them and just be a light," he said. The photo reinforced the fact that small acts of kindness like O'Neal's simple prayer helped refresh and renew the faith of one of our finest police officers.