A 6-year-old boy sent out a strong message when he wore a friendship t-shirt on his first day at school.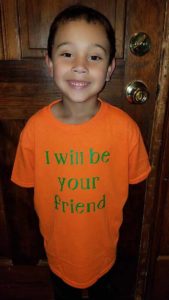 Blake Rajahn wore brand new clothes on his first day at North Fayette Elementary but it wasn't the typical basketball jersey or button-down usually worn by boys his age.
The orange shirt with green words which said, "I will be your friend," was made by Blake's mom who started her own personalization business earlier this summer. Nikki, told her son Blake that she would make any shirt he wanted for the first day.
Nikki said, "I told him that as a back to school gift, I will make him any shirt he would like. It could have anything – a basketball theme, football, whatever. He thought a while and said, 'Will you please make me a shirt that says 'I will be your friend' for all the kids who need a friend to know that I am here for them?"
Blake's mom said that he has experienced bullying and hard times at school before, and only wanted other children to know that he's there for them. Blake says, "I want to make sure that kids that are are bullied know they have a friend already."
The shirts have become a big hit especially after Nikki's Facebook post went viral. Blake says that he hopes "more and more people find friends" on their first day with the help of the shirts.
Bullying and harassment at school is a growing evil in our country which must stop. Through simple ways like the one Blake and his mother have used to overcome bullying, we hope that children start treating one another with love and respect and really be there for each other.