In the small, tight-knit community of Mounds, Oklahoma, an unexpected miracle has breathed new life into the Taylor family, reminding us all about the power of faith and the remarkable mysteries of life. Patty and Brad Taylor, a resilient couple who had been facing the challenge of infertility for 20 years, have been blessed with a sweet baby girl, Leigha Fae.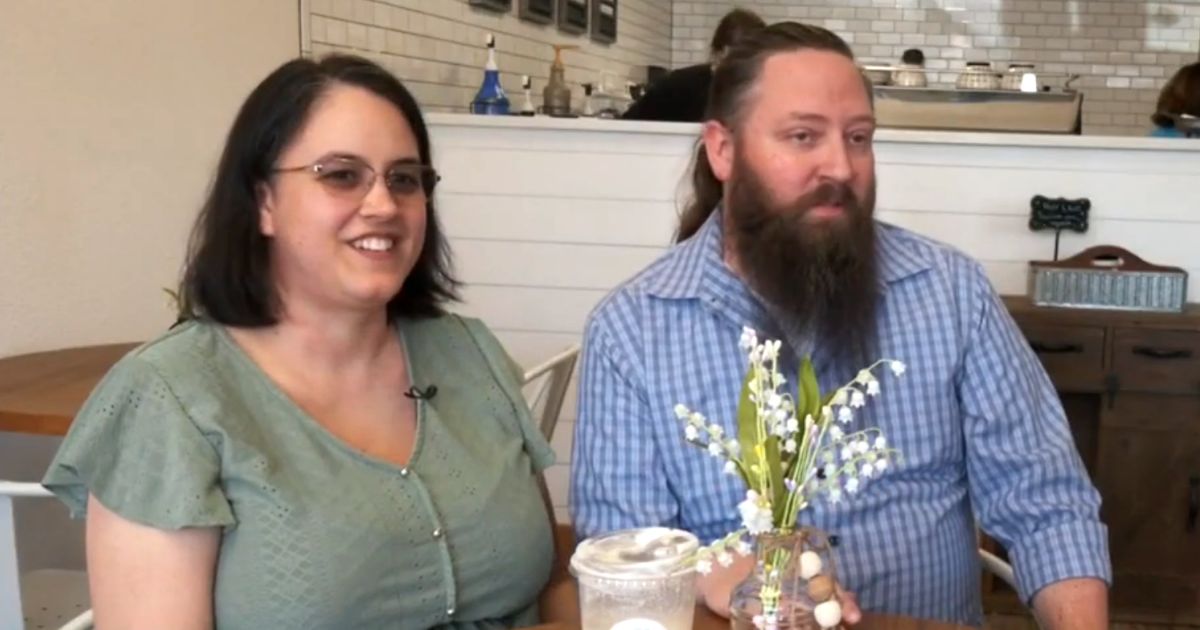 Patty reminisces about their daily routine, "We came in and had coffee," at the Dry Creek Coffee Shop, a simple ritual that unknowingly marked the beginning of an extraordinary journey. From a table for two, their daily coffee spot transformed into a table for three, a testament to the surprises life can hold.
Patty had been diagnosed with polycystic ovarian syndrome (PCOS) at a young age, a condition known to cause infertility. The birth of their son, Johnny, twenty years ago, was a silver lining in their cloudy predicament. However, their desire to have a second child seemed to be an uphill battle. "I was told by three different doctors that I had a greater chance of getting hit by lightning and winning the lottery at the time," Patty recalls.
For two decades, the couple faced a rollercoaster of emotions as pregnancy test after pregnancy test came back negative. Now 42, Patty had nearly given up hope when an unexpected twist in their tale emerged. What seemed to be stomach pains turned out to be little Leigha Fae, a miracle that Patty discovered she was 36 weeks pregnant with.
The shock was immense. "I was starstruck by it," admits Brad, her husband. Patty's slight weight gain suddenly made sense, but beyond that, there were no other signs of her pregnancy. "I was like oh no, this is real."
Leigha Fae made her grand entrance into the world on January 2nd, at St. John's Hospital in Tulsa. The couple was over the moon, Brad describing the moment as "dream-like" and feeling "frozen in time". Their little miracle, a healthy six-pound baby girl, was finally in their arms.
Now a big brother, Johnny shares his excitement, "I've always wanted a sibling. I just never expected it like this." The family's regular coffee shop, Dry Creek Coffee, even threw a baby shower for the couple, further solidifying the community's love and support for the Taylors.
Patty's story, while unique and surprising, is a powerful testament to resilience and faith. "God has a plan," she emphasizes. "We don't know what that plan is. We don't understand that plan, but God does have a plan. Live your life. Everything happens for a reason. Don't give up. Just keep trying."
In their quiet town of Mounds, the Taylors have become a beacon of hope, their story serving as an inspiration to others navigating similar challenges. Their journey, which included negative tests, a trip overseas, and countless cups of coffee, eventually led them to the sweetest reward – baby Leigha Fae, who is now four months old. Amidst the joy and newfound responsibilities, Patty simply says, "I'm just grateful that St. John's took really good care of us."
The Taylor family, who had longed for a family of four for 2 decades, is now complete. Their story is a reminder of the unexpected miracles that can bloom from the seeds of faith, resilience, and love.