A former addict is sharing her life-transforming story to encourage people who are struggling with addictions, with an uplifting message- we can do this.
Ginny Burton has completed 9-years of being sober after struggling with drug addictions her whole life. She stopped using drugs in the year 2012 and has recently graduated from the University of Washington.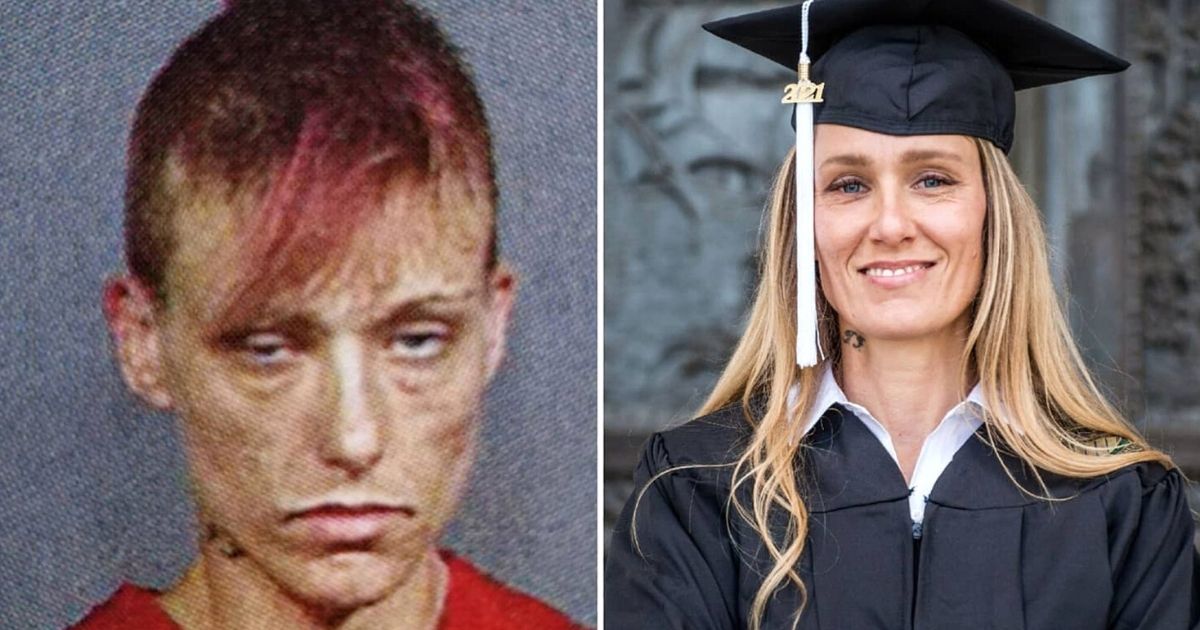 The mother-of-three has got her degree in political science in June and before that in May, she shared photos from her graduation ceremony along with a mug shot that was taken in 2005 when she was in one of the worst phases of her addiction.
Burton, who is now 48, says she was a heroin and crack cocaine addict and that the two photos show the vast contrast there and just how far she has come in her journey.
Her mother introduced her to drugs at age seven and at 14 she was smoking crack and by 15 she became a crack addict. She belonged to a family of seven children and drugs provided her with an escape from reality, but she says she was slowly transforming to resemble her mom, something she didn't want to do.
As a child, Ginny Burton had dreams of becoming an attorney, but she had to quit school after completing sixth grade. She wasn't consistent in 7th and 8th grade, sometimes doing classwork in juvenile hall, she officially left school in 9th-grade.
By the time she reached her 20s, she started getting arrested and was in prison, once she became sober for a year and a half but after finishing her second prison term she relapsed. After her grandma who helped raise her and her mother died, she got married to an abusive man.
She ended up doing time in jail and then couldn't arrange the bail amount, so she spent 6 months there and went through withdrawal which helped her work on herself. She started writing positive words about herself and affirming them multiple times a day. She could then look at herself in the eye say that she loved herself, she's done that for the last 9 years now.
Burton managed to transform her life by getting cycling, hiking, and other wholesome activities which have led to her change of life. She and her 15-year-old daughter moved from Rochester to San Diego for a new job. Her other children are 28 and 29 years of age now. She actively participates in Narcotics Anonymous and is also helping by sponsoring women in recovery.
For her, it's really important to be around people with similar ambitions and participates in recovery programs so that people doing different things are part of her circle. She is using social media to share her experience and the problems she still encounters even nine years later, to encourage all her friends who have an addiction problem.
One of her posts on Facebook went viral in May where she wrote to her friends to: "Stop selling yourself short. You don't know what tomorrow might bring so you might consider starting today."
She shared, "I want them to see that it doesn't matter how old we are, we can make a new decision at any moment," Burton said. "It doesn't mean that it's not going to be hard."
She wrote: "I specifically shared those [pictures] for that purpose, to show the contrast and to say I don't care where you're from, what you've done, what your life looks like, and how old you are. We can do this."