With the novel coronavirus turning our lives upside down, elderly people are the ones who are worst affected.
A Gilbert, Arizona, elderly husband and wife were out trying to do their shopping at Trader Joe's, but as they stood at the store with their list in their hand, they were feeling extreme anxiety and had tears in their eyes.
A young girl happened to see them and went all out to help them, according to a bystander, who shared the heartwarming encounter to their Twitter account which was set up to share acts of kindness in Gilbert.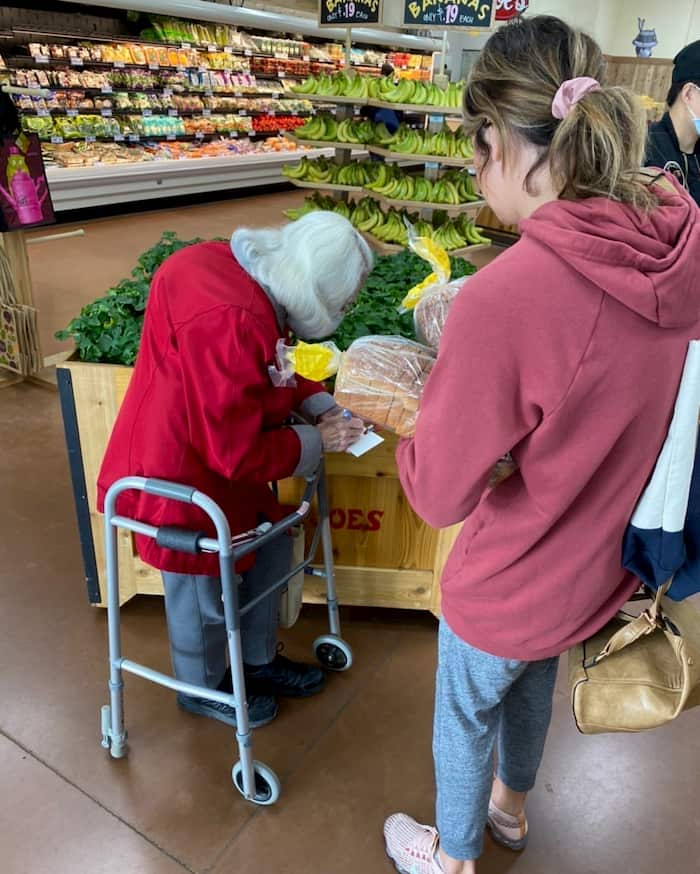 "I just witnessed this behind me at Trader Joe's," the anonymous bystander wrote. "An elderly couple who had tears in their eyes because they were so afraid to be at the store.
"This young girl gave her phone number and told them she would do any and all shopping from here on out for them.
"Our community is alive, hidden at times by fear, but alive."
The photo showed the elderly woman with a walker and the young woman holding loaves of bread as her new best friend was busy checking her grocery shopping list.
People poured out their comments over this heartwarming picture, "So many of my kind neighbors have posted the same," one person commented on the tweet.
"They have offered to walk [their] dogs. Run errands and shop for neighbors who are at risk or just need help. We have craft supplies left outside their house by another neighbors so kids don't get bored."
The Gilbert Twitter account also shared a link to Gilbert's Neighbor 2 Neighbor program in response to people asking how they could get involved.
Get ready to cry happy tears. 💛 #GilbertKindness pic.twitter.com/q2id6QnmeU

— Gilbert, Arizona (@GilbertYourTown) March 18, 2020
"Help a neighbor in need!" the organization's webpage reads. "Neighbor 2 Neighbor (N2N) has provided a way for Gilbert residents to help support neighbors in need through a monthly utility bill donation, a one time donation or by making a Gilbert Goodies purchase from the on-line Gilbert Town Store!"
Now many stores have decided to implement "senior shopping hours," where only the elderly can shop during the first hours of the store's opening, providing them with freshly stocked and cleaned aisles.
With the coronavirus scare leaving people terrified, this is the best time to get to know your neighbors (while practicing social distancing) and do something to uplift one another in the community.