A sweet moment was between a Coweta County Sheriff's Deputy and his daughter before he reported to duty.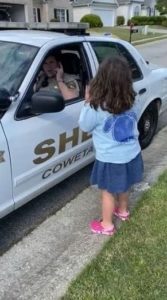 The Coweta County Sheriff's office's Facebook page shared that Deputy Mark Dorsey's daughter Drew is autistic and communicates with her dad through sign language.
The video shows an excited Drew running to her's dad car and giving him some encouragement via signs.
The Coweta County Sheriff's office captioned it saying, "Deputy Mark Dorsey and his daughter Drew. Drew is autistic and nonverbal. She uses sign language to speak. They do this every day before he leaves for work. #loveneedsnoword"