Overcome with emotions, Vanessa Spruell's eyes swelled up in tears as she and her husband George, a marine-corps veteran, was given the key to a new home built by Fort Hood Area Habitat for Humanity, Nolanville, Central Texas, after years of being homeless.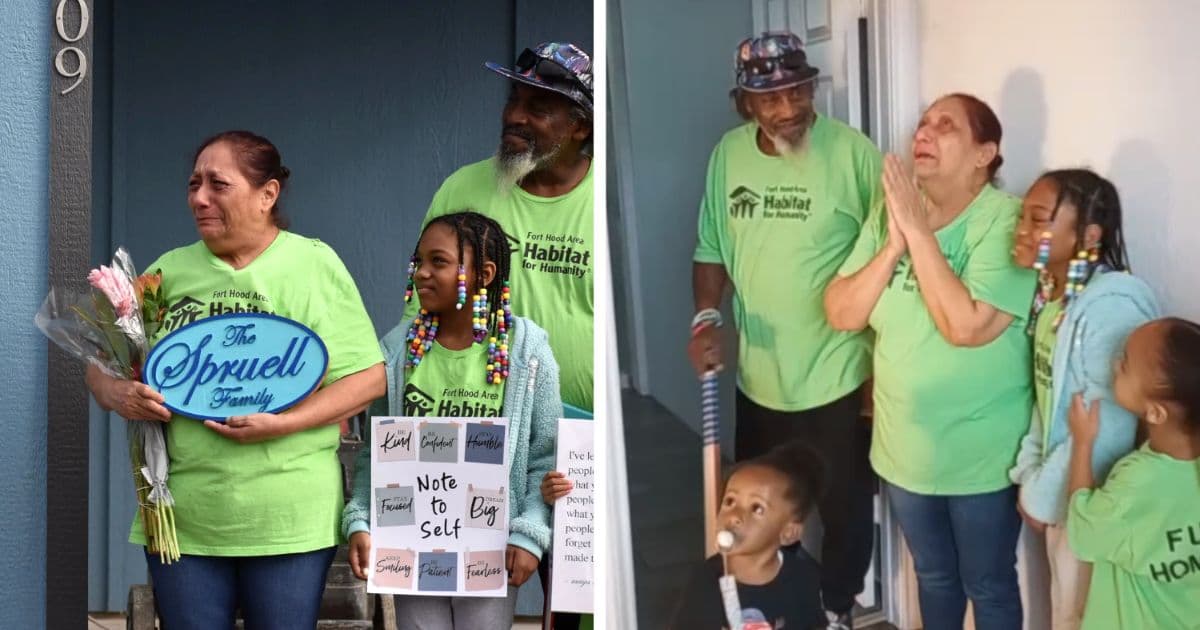 The couple with their grandkids had been homeless in Austin, living in their car and bathing themselves in the restrooms of convenience stores. Recently, they were living in a rented place.
Vanessa tearily says that she had never been a home-owner, as she inspected the three-bedroom, two-bathroom house which she will now own and live together with her husband and four grandchildren— Anastasia Kyles, Destiny Kyles, Saniyah Hannibal, and Zariya Loza — who were also excited.
"I kept saying to myself, 'Thank you, Jesus. Thank you, Jesus. Thank you, Jesus, for letting us walk this journey with you," Vanessa said. "When I drove up this way, it was like I froze, and then I started having tears come down. And the girls were screaming in the backseat — screaming and howling like, 'We got it. We got it, grandma. We got the house already.'"
According to the CEO of Fort Hood Area Habitat for Humanity, Kristin Smith, the Spruells' home is the first home to finish and be dedicated, since Covid. Although things have not been able to pick up their pace due to the challenges posed by the pandemic and its aftermath, she said that they have big plans for 2023.
The frame of the house was built on the grounds of the state Capitol in Austin in June 2022 during one of Habitat for Humanity Texas' projects called "Day at the Dome."
"My vision for 2023 is planting the seed," Smith said during the ceremonial portion of the proceedings. "And it takes the community to come together to water the seed. So today, we're planting the seed for this family, the community, first-time home-buyers, first-time taxpayers. But, all of us stand together to continue watering the seed across our coverage area."
Vanessa said that it was like a gift for her when she was presented a piece of paper and opened it to find a home in it. They will finally be able to move in this week after the house has been connected to electricity.
Shedding tears of joy, Vanessa added that her granddaughters, "can go and lay down and say it's going to be OK."