A homeless man's letter to the person who left him some food as he slept on a park bench in Melbourne is going viral. The note was written by an English man named Phil who wanted to thank the "very kind lady" for the kindness she showed him by leaving him food to eat after seeing him sleep in the open.
A picture of the letter was shared online on Saturday by a passer-by in Fawkner Park in the Victorian capital. "Hello, my name is Phil," the note reads. "I am English and now homeless in Melbourne.
The letter read, "I slept on this bench last night at Fawkner Park. A very kind lady left some food for me when I woke up. I think she is a nurse at the Alfred, she had a blue uniform on as she walked away. "I would just like to say thank you to her."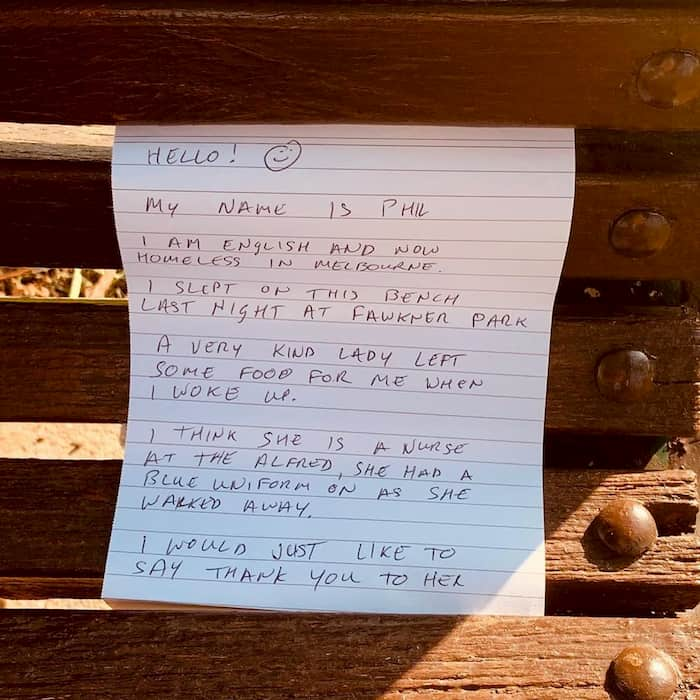 Several people commented on the post and praised the nurse and also the profession of nurses for their kind-heartedness. Someone said they are "the best people in the world", while others vowed to help Phil.
A user said, "They [nurses] are gifts to every life they touch that's for sure. Have my own fair share of reasons to thank them." While another said, "Should we all get together and find Phil, donate a couple of dollars each and get Phil a place to stay until sorted? If all of us gave a few cents it would easily cover it?? and "Would also find the beautiful nurse who helped Phil and thank her too."
A man whose wife works as a nurse at the same hospital, said: My wife is a nurse at the Alfred, I've sent this through to her. I'll get her to post it to a couple of the boards." We hope Phil gets the help he needs to get back on his feet and is reunited with the kind nurse who left him some food to eat.