As the sun was rising on a regular morning in Los Angeles, some unsuspecting customers at a local coffee shop were in for a special treat. The typical sounds of coffee machines whirring and morning chatter were replaced with the soulful melodies of Kelly Clarkson, the well-loved winner of the first season of American Idol.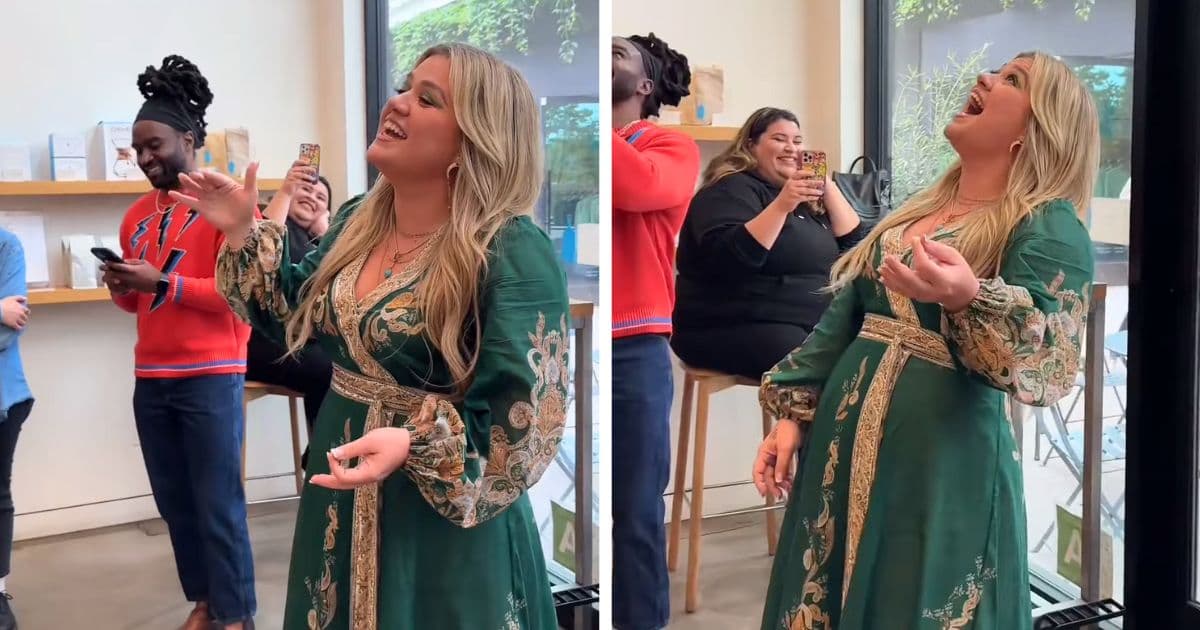 American Idol, a television program that has remained a staple of American culture for decades, has launched the careers of numerous successful artists such as Adam Lambert, Carrie Underwood, Iam Tongi, and Scotty McCreery. Despite the impressive roster of Idol stars, Kelly Clarkson is often the name most synonymous with the show. Since her groundbreaking win, Kelly has blazed a trail in the entertainment industry, selling millions of albums, serving as a coach on The Voice, hosting a daytime TV talk show, and even making appearances in films and TV shows.
However, on this seemingly ordinary day, Kelly's stage wasn't the bright lights of a concert hall or the television studio. Instead, her melodious voice echoed off the walls of a local coffee shop. Dressed in a dark green, floral-patterned dress, Kelly stood near the shop's cash registers, her voice filling every corner of the room. This wasn't a solo performance though, as she was accompanied by a six-person choir.
As Kelly sang, a few of the coffee shop customers circled around the "Since U Been Gone" singer, phones held aloft to capture this extraordinary moment. The impromptu concert lasted for a minute and a half, a brief interlude that left an indelible mark on the morning.
Following her surprise performance, the video captures a smiling Kelly ordering a vanilla latte from the counter, a simple act that further emphasizes the extraordinary nature of the day.
As the day winds down and the coffee shop customers return to their lives, they'll carry with them the memory of that unexpected performance.
WATCH: Kelly Clarkson Sings New Song 'Me' at Coffee Shop