Richard Barber was on the road with his fiancée, driving to pick up his child, when they got themselves into some trouble with their car.
They pulled their car to the side of the road but they were not fully out of harm's way.
Traffic was moving at high speed on the road around them, which left Barber with little room to detect what was wrong with his car, finally he found out that his timing belt was giving him problems.
Barber had the money to buy the new part, but he could not locate a store to buy it from, and it wasn't possible to get his car repaired on the busy interstate road.
As if that wasn't enough trouble already, a cop pulled up behind them, it was Trooper Jason Blaney, who got out of his car to see what was going on with Barber.
He checked on them and went back to his car, made some calls and returned. He then informed Barber that a tow truck was arriving shortly, Barber was hesitant.
He asked the officer how much it would cost him, but the cop responded that he wouldn't need to worry about that.
Officer Blaney had observed Barber and seen that he had the money to buy the parts of the car but it would not do for the tow truck expenses.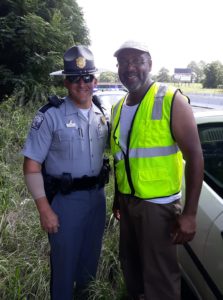 This exemplary police officer handed over $100 to Barber and told him that the tow would cost him $80 while the remaining $20 he could use to buy something to eat. This made Barber overcome with gratitude and thanked the officer for helping out a homeless couple.
The officer also said that normally he doesn't keep cash on him, but it was different that day. Barber was able to pay for his car to get fixed and pick up his son, but he wanted to appreciate the police officer ang get him the due recognition.
So he went on Facebook and shared the story there along with a picture of officer Blaney and told his story.