Christmas has been a tough time for 95-year-old George Dowling ever since the loss of his beloved wife, Lucille, in 2013. The couple had celebrated the holiday together for a remarkable seventy years, and with her passing, a part of George died too. Life has been tough for him since then, but the pain is particularly acute during the festive season.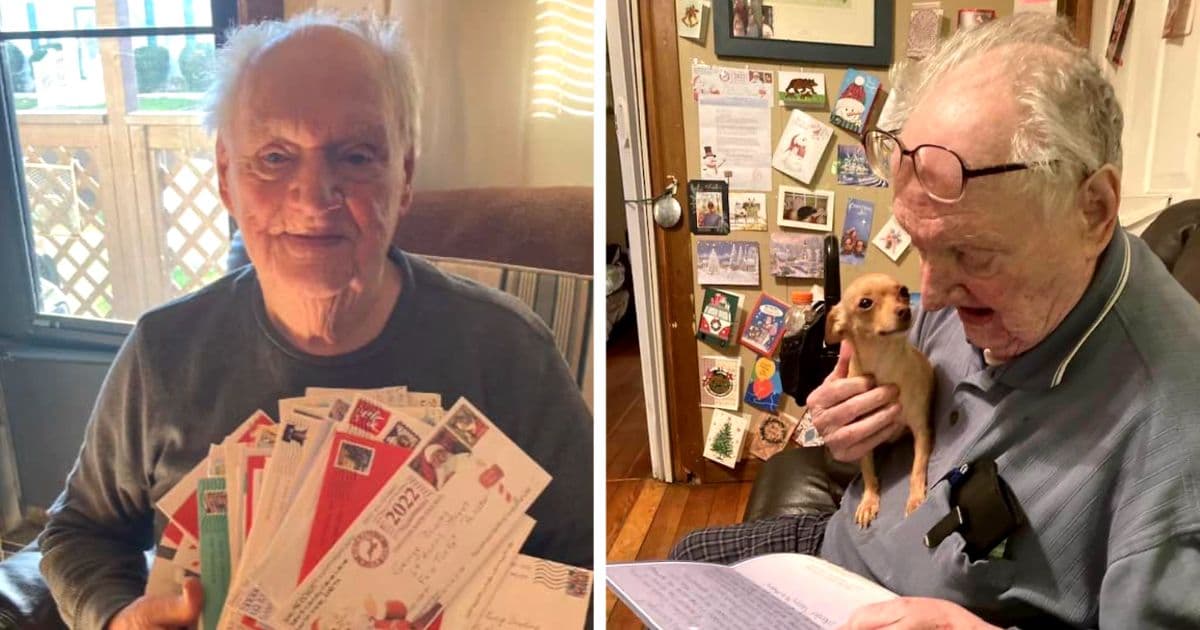 For George, Christmas meant Lucille and without her, there was no Christmas at all. He could not think about Christmas without reminiscing the time he had with Lucille when she was alive. "I miss my wife and the kids. "I have four kids, still living thank God, but my wife passed away about 10 years ago. I do alright — I try," he explained.
His daughter, Suzan Brito just could not stand and watch her dad struggle to cope with his loneliness. So she reached out to people on Facebook asking people if they could send Christmas cards for his dear father. The first year, they received about 102 of them and George loved it. Last year, only 14 Christmas cards came in, which made him sad and was not enough to carry George through the season.
So this year, Suzan and her daughter Charlene reached out to people on social media and received an overwhelming response from people all over the country. 160,000 people shared the request and a tsunami of Christmas Cards came in like never before.
"I couldn't believe it," Suzan said. "I said 'dad, you have so many grandchildren now — 160,000 of them.' They're calling him 'Grandpa George.'"
The beautiful gesture of these kind strangers lifted up his spirit and it was lovely to see him feeling joyful and excited instead of feeling lonely and sad. It meant the world to George.
"I was always in the background," he said. "Always watching, let the other guy do it you know. Thank you for everything. Thank you for writing. People are responsive, they're really nice." George is receiving lots of attention and love, like never before, and feels blessed by the letters people have written to him.
Update on George Dowling. So far he's gotten over 2,000 Christmas cards since a Facebook post earlier this week by his granddaughter asked people to send cards to help pick up his spirits during the Holidays.

Posted by John DeLuca on Thursday, 1 December 2022
This heartwarming story reminds us all, how a small act of kindness and concern has a huge impact on the lives of people. Also as Christians, we are called to serve one another and spread love. Nobody has to be lonely this Christmas. Reach out and spread Christmas cheers, tell them of Jesus Christ who was born to save us and filled us with hope and joy. God bless you.
WATCH: 95-Year-Old Widower Receives Thousands Of Christmas Cards From Strangers