An Arizona man has grown out his hair to make a wig for his mother after she lost it due to a tough battle with a benign brain tumor.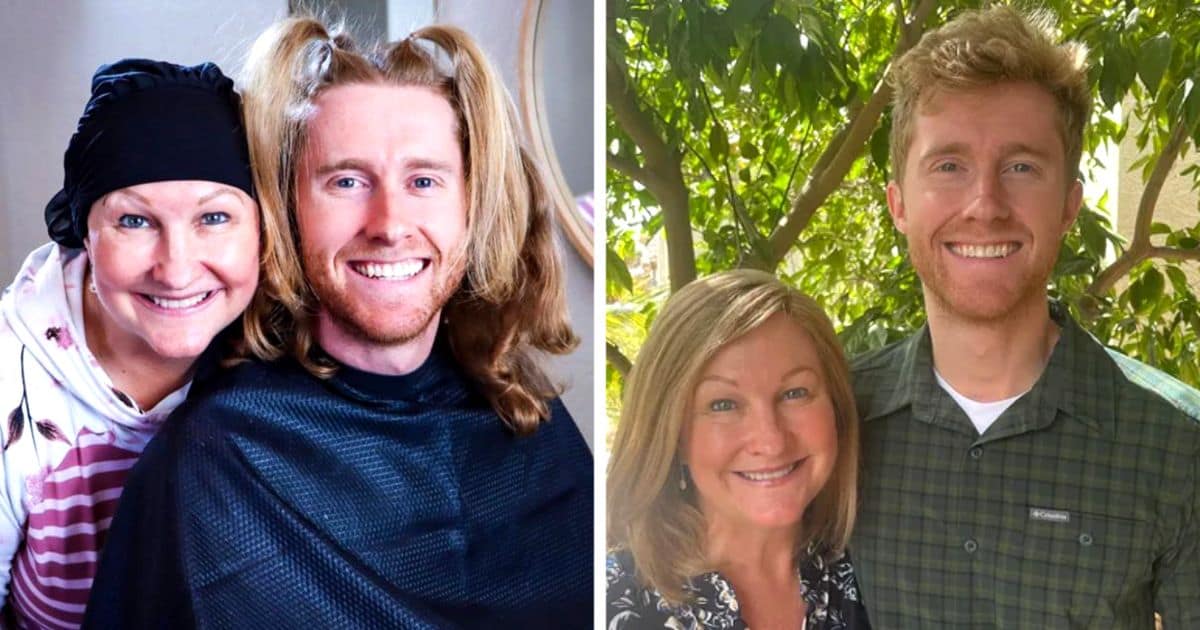 This sweet act of kindness is touching our hearts today because of the son's concern for his mother, which is rarely seen nowadays.
Melanie Shaha permanently lost her hair year four years ago after she underwent grueling radiation to treat a benign brain tumor that reappeared again and again.
Her son is blessed with a head of strawberry blonde hair and decided to grow it out during the past two years. Matt Shaha, 27, began his goal at the beginning of 2020, till it grew 12 inches before he got it cut and paid a company to hand tie him a wig for his mom.
The mom-of-six was stunned when she received the gift she could never imagine in her wildest dreams. She said, "When you wear a hat everywhere, you just stick out like a sore thumb," she said. "I don't mind being sick, but I do very much mind that I look sick."
She had a tumor on her pituitary gland since 2003 and although it was benign, she said, "it was in the wrong place and smashes important things, so you can't let it stay there," Melanie said.
After her first diagnosis, she had neurosurgery, and 3 years later it again returned causing her to go for a second surgery. In 2017, it returned the third time and she had to undergo radiation to keep it from growing and it was ultimately shrunken in size.
But it caused all her hair to permanently fall out. "About three months after radiation, all my hair started to fall out, which I didn't know would happen," she said. "And the doctor said it won't come back."
Meanwhile, Matt was always concerned for his mom, who had to wear a hat to cover her bald head. So during one of his school breaks, he told her, "Maybe I'll grow it for you mom." He added, "Then it just kind of like clicked: Well, why don't I?" he added.
But since he was attending Brigham Young University, he could not grow out his hair as it was against protocol. So in March 2020, when the pandemic struck and most schools were on online mode, he was in his senior year of college at home and was able to grow his hair.
"I knew it was a big ask and… there might be a time when it's not practical for his career or with sports or relationship-wise," Melanie said. In March 2022, he cut his hair and Melanie was in tears. "The kindness, compassion, and sacrifice from Matt has really been spectacular," she said. "He has shown a lot of love and concern."
Matt sent the hair to Compassionate Creations, a Newport Beach business in California, that makes custom wigs for people experiencing hair loss. "There are lots of places that you can cut your hair and donate it, but there are very few companies that will take your donated hair and make a wig for you," Melanie said.
Soon it was time for the wig to arrive and when it arrived in mid-June Melanie wore her son's long strawberry blonde hair and said she looked herself again. "It meant the world to see that project just kind of come to fruition and seeing how well it turned out," Matt said.
This heartwarming story reminds us to take care of our parents and honor them with our possessions because there is a blessing attached to it.
Ephesians 6:1-3 "Children, obey your parents in the Lord, for this is right. "Honor your father and mother" (this is the first commandment with a promise), "that it may go well with you and that you may live long in the land.""