Donna Herter's plea for a friend for her son, Christian Bowers, who has Down Syndrome, has touched the hearts of thousands of people all over the world. The Missouri mom had offered to pay a young man to spend time with her son and play video games twice a month in a heartfelt Facebook post that quickly went viral, and Donna received an outpouring of support from people in her community and beyond within days.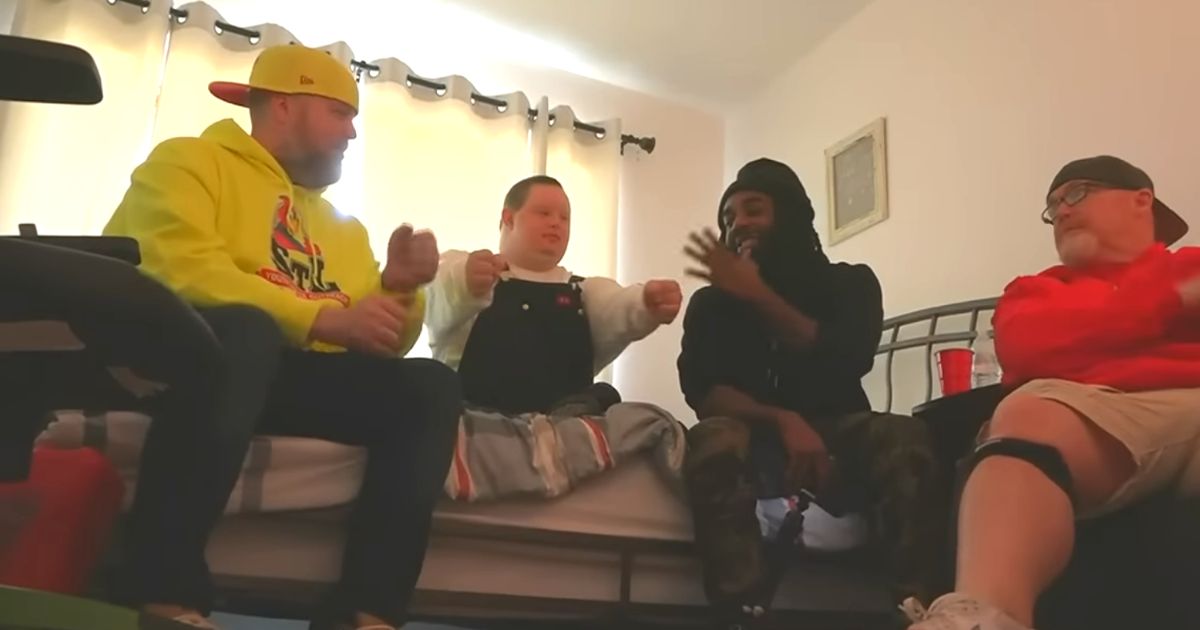 Donna wrote, "I'm looking for a young man, between the ages of 20-28 who would like to make some extra money," she wrote. "Two days a month for two hours, I'll pay you to be my son's friend. All you have to do is sit with him and play video games in his room. Nothing else. He's 24 and has Down Syndrome and doesn't have any friends his age. You will not be alone with him, myself or his grandpa will be home. Obviously he won't know you are getting paid, but that you are there for him those 2 days."
The Facebook post received an overwhelming response and was flooded with the sweetest and positive comments. With thousands offering to spend free time with Christian. Donna has been able to fill Christian's calendar for the next few months, and she has even received offers from people in London and Australia.

"I still have people messaging, and I'm adding more dates and I just can't stop smiling and it's not even for me, it's for him," Donna told KMOV. "He has not been this happy in years, this is the happiest I've seen him in years."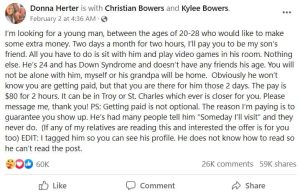 A day after the post was made, Donna made another post that read, "Last I checked there was 2200 messages. Every time I reply to 100, 200 more of come up, it feels like I'm never going to be done Lol! But …. how amazing is that!!! Just when you think there's nothing but hate in the world, something like this happens and shows you there's hope."
"And it looks like he's going to be on the news! They are going to be coming over and interviewing him. Lord, help us all! I am very thankful that they can bleep things out, because, as most of you know, his language is not TV appropriate! Again, thank you!!!" she added.
Over the next several days, people from all over the country sent in gifts and care packages, Christian even went on air and was visited by several kind-hearted groups who have heard about him.
He received several new friends from the nonprofit STL Youth Sports Outreach last weekend. They delivered a new 65-inch flat-screen TV, a wireless sound bar, St. Louis Blues tickets, and plenty of snacks for late-night gaming sessions.
He was invited to Tim Tebow's "Night to Shine" prom. A lady from Chicago sent in a mug with Christian's picture on it. Local pizzerias sent him pizza boxes and members of the local police showed up at his house and offered support. He even received a care package from Station 32 of the New York Fire Department.
Donna is overjoyed by the community's unexpected generosity, and Christian is even more overwhelmed with joy with his new friends and gifts.

The wholesome story has shed light on the isolation and loneliness that many people with disabilities face. Christian's story serves as a poignant reminder of the value of community and human connection.

Christian now has a whole network of new friends to spend time with and enjoy life with thanks to the kindness of strangers. Donna's post began as a request for assistance, but it has evolved into a beautiful example of the power of community to change lives.
Watch the positive news story below.