A beloved math teacher in L.A. who did not have a car and commuted 4 hours a day to school received a huge surprise from his students after they gifted him a car.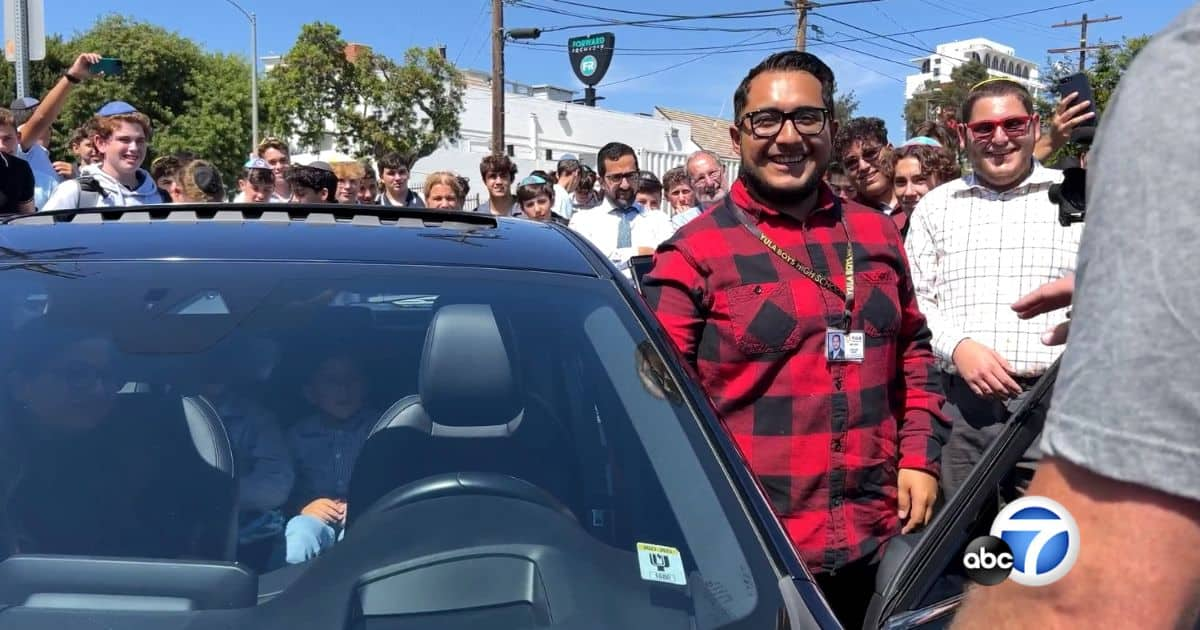 31-year-old Julio Castro thought he was attending a faculty appreciation ceremony but instead was given the keys to a car.
Castro lives in Santa Clarita Valley and teaches at YULA Boys High School. To be able to reach school on time, he gets up at 4:30 a.m. and commutes 4 hours a day by scooter and bus to and fro the school, since he does not own a car.
The dedicated teacher comes back home as late as 9:30 p.m. hours after his 3 young children have gone to sleep.
The initiative for buying a car for Julio Castro started after one of his students Josh Garendesh saw Castro looking at cars online.
He says, "He still makes sure to devote all this time to students," said Joshua Gerendash. "He'll skip his lunch break to help a student and stay after school. He also helps students who aren't in his classes. He's really, really, really devoted to our futures."
Gerendash started a month-long fund raiser to get Castro a car which raised more than $30,000 to buy him a 2019 Mazda CX-3.
Along with the car, they also bought him a year's worth of gasoline and car insurance.
Castro said, "I feel surprised. I feel special. So thank you to my students. They are like my kids as well," Castro told KABC. "Now that I have a car, I get to drop off my kids every morning. And then coming here with time to spare, I can use it on my lesson plans. Then on my way back, traffic is still bad, but I'll be able to make it for dinner."
Castro's colleagues know him well and say that he will surely find a way to pay it forward. "No matter what happens with him, he is gonna find some way to pay it forward," senior Charlie Leeds said.
"We've been taught certain values like empathy" and to "treat your fellow person as you'd want to be treated. Mr. Castro is the embodiment of that. With this car, with this new opportunity, he's only going to find more and more ways to help other people around him," he added.