Even as Category 4 Hurricane Ida still hammers Louisiana, Jim "Mattress Mack" McIngvale announced a massive relief effort to assist families impacted by it.
Jim "Mattress Mack" McIngvale has always believed in God, country, family, and hard work. Mack can be found standing at the front desk of the original Gallery Furniture store on North Freeway, and he personally greets every customer, seven days a week.
He built his business starting with only $5,000 and a dream to build the world's greatest furniture store. Mack started Gallery Furniture under tents on the side of the freeway, over 30 years ago. His life's motto is "Grateful for everything, Entitled to nothing."
Today he has a multi-million dollar enterprise, and over 400 American workers fulfilling his commitment of selling Made in America furniture. Volunteers will be at his Gallery Furniture store in north Houston to collect donations Monday through Wednesday from 8:30 a.m. to 5:30 p.m.
On Sunday, Mattress Mack spoke about why he's acting quickly to help. "Our hearts go out for the residents of Louisiana, especially in New Orleans residents are getting hit by this terrible hurricane. So on Monday at Gallery Furniture from eight to five in the afternoon, we're gonna have a giant drive."
"Looking for people to bring non-perishable foods, diapers, all the normal things for hurricanes and we're gonna get about 30 trucks and take them to Louisiana to help the people out and be doing that as long as the need's there. And we're also having Louisiana residents that evacuated to Houston sleep here free."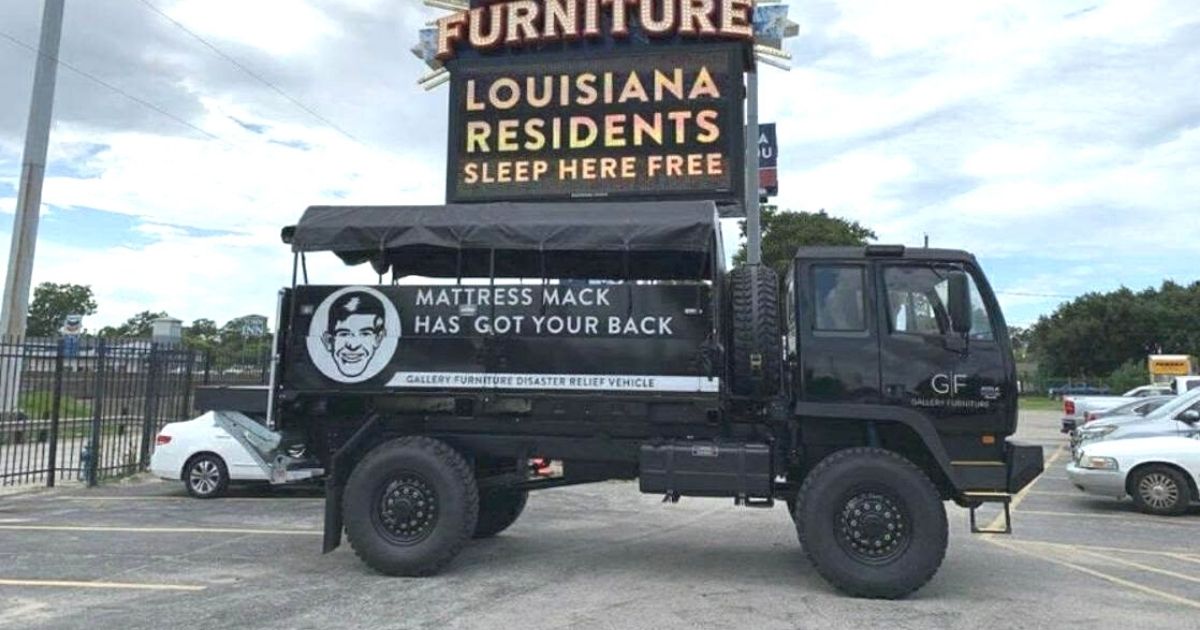 When Mack was asked why he was doing this he said, "Well we did it during Katrina and, you know, people need a place to stay. They've been disrupted from their homes by this terrible hurricane, so it's the least we can do. We've got lots of mattresses, lots of sofas and anybody needs a place to stay, come out to Gallery Furniture."
"But the main thing is tomorrow from eight in the morning, all the way to probably till midnight at night we'll be collecting nonperishable foods and diapers, those sort of things that people are going to need, cleaning supplies, after this terrible hurricane roars through Louisiana, and we're gonna take them down there in a convoy of about 30 trucks."
"We need volunteers as well to drive and help people in Louisiana. We're here to help. That's what Texans do and you know a lot of our friends, neighbors, relatives live in New Orleans, so we're gonna help them out as much as we can"
The GF Flood Truck is getting ready to head down to Louisiana to help our neighbors get through one of the worst Hurricanes since Katrina. You are in our prayers friends! Louisiana residents shelter at GF 6006 N. Freeway Free with LA ID. More details at https://t.co/QOKd0jCVKq pic.twitter.com/kVVkbEngzK

— @MattressMack (@MattressMack) August 29, 2021
At the end Mattress Mack added, "God bless everybody in Louisiana hopefully they weather the storm well, and we're praying for everybody in New Orleans and all over Louisiana."
If you are a Louisiana resident who has evacuated to Houston due to Hurricane Ida, Gallery Furniture welcomes you to sleep and eat for free at the 6006 North Freeway Gallery Furniture location for the next several days. If you are a Houstonian who wants to help, please consider donating non-perishable food items and toiletries to Gallery Furniture North Freeway that will be delivered to those affected in Louisiana. Please watch this video to learn more, and head to https://bit.ly/3sWX4aD for a list of items being accepted as donations. Thank you to Michael Berry of the Michael Berry Show, Kroger and all other non-profits and individuals who are working with Gallery Furniture to organize these relief efforts. God bless all who have been affected by Hurricane Ida.

Posted by Jim Mcingvale on Monday, 30 August 2021