A meteorologist who was presenting the weather report stopped the broadcast mid-air to call his family and warn them about a tornado heading towards their family home.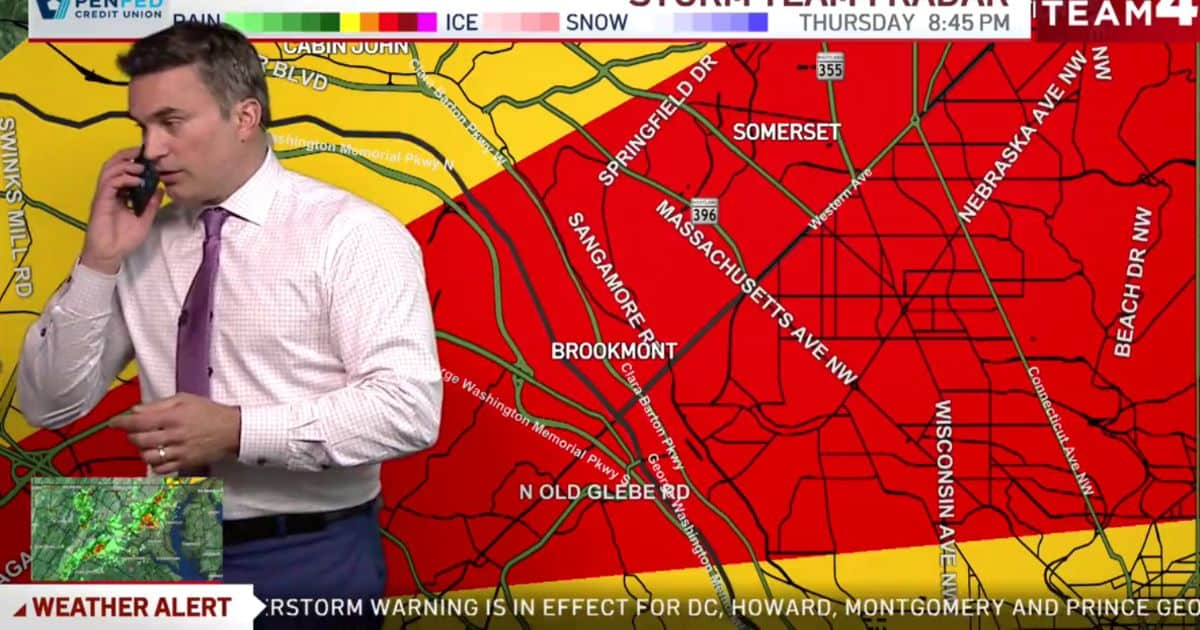 There has been an increase in the number of tornados hitting different parts of our country and some say it is because the Bible says it's going to happen while others blame climate change for it. But whatever the reason, this D.C.-based meteorologist showed viewers what a caring dad he is when he called home in the middle of a live broadcast.
We can feel what NBC Washington's Doug Kammerer was going through when he was making the announcement about an incoming tornado heading straight towards his Maryland home on Thursday. He realized that the twister was on the path to his Chevy Chase home, and immediately dialed up his kids on live television.
'As a matter of fact, I'm tracking this so closely now, this is going to go right over my house,' he said while moving a little away from the screen to see the exact location of the storm's path. The dad-of-two then gets back into the frame and calls his son saying, 'Kent, you there, buddy? Hey man, I want you to get down in the basement. We got a tornado warning. I want to make sure you and Cally get downstairs as soon as you can.'
His children were clearly unaware of the weather outside and were shocked to hear from daddy during a live broadcast as Kent can be heard saying, 'Right now?' He then tells him to immediately take his sister and him to the basement and to 'get in the bedroom down there and just wait 10 to 15 minutes. Again he reminds his son to follow his instructions saying, 'Do it now. Thanks, buddy,' he says before hanging up.
After getting back to his live broadcast he started to explain his actions by saying, he had to 'warn my kids, because I know what my kids are doing right now, they're probably online gaming, and they're not seeing this.' To add to it, his wife wasn't at home at that moment and his 'heart sank' because of the impending danger his children were facing. 'I had to make the call on live TV. I have never done anything like that before,' he wrote on his Facebook page.
Kammerer also shared on Twitter about the incident writing, 'Kids were home alone and I knew they were not watching me on TV!' he wrote.
'[When I zoomed in I] saw that it was going very close to my house and I knew I had to warn my kids.' He later gave an update on the well-being of his kids saying, they were safe, but it was a 'scary moment' for him. 'I was freaking out inside a bit,' Kammerer said.
A video of the incident was shared by NBC Washington on its Twitter with a funny caption that the meteorologist 'was working to keep you informed and safe — just like his own family.' Kammerer shared to his followers that the tornado affected Fairfax County and that two gas stations were damaged but no casualties were reported.
Watch: Meteorologist Interrupts Live Broadcast To Keep His Children Safe From A Tornado
#Working4You When a tornado warning sounded last night, Storm Team4 Chief Meteorologist @dougkammerer was working to keep you informed and safe — just like his own family. https://t.co/1iV3XQHB0q pic.twitter.com/xZZrDOWCC6

— NBC4 Washington (@nbcwashington) April 1, 2022
We thank God for Meteorologists like Doug Kammerer who work hard to ensure our safety and also the safety of their loved ones. He is an example to all fathers to always keep the well-being of their children in mind even while they are at work.