A Florida man is winning the hearts of social media users when he saved a woman who fell into a creek.
Chris Miracle's family business in Baker country, Florida, has a slogan saying "Miracles do happen here," and it is true.
The Miracle Towing and Recovery worker 26 year-old Christian said, it was an ordinary night when he was driving on a call and passed a Manntown church and noticed flashing lights.
He said, he had driven past it many times before, but this time he felt something wasn't right, so he turned around and followed the lights into the woods.
Once there, he found a 77-year-old woman trapped in her vehicle which had fallen headfirst into the bank of a creek.
The lady driver had probably veered off the road after a mishap with her medication, she was without a cell phone and could not open the car door.
All she did was turn on her hazard lights, played gospel music, and prayed that God would send a Good Samaritan.
Christian was the answer to her prayer and he also happens to be a volunteer firefighter, and therefore knew exactly what to do.
"There's definitely a higher power that made me be on the road at that time to be where I was," Miracle said, adding that his work is 24/7 so he never knows when he'll be on call.
Miracle, is engaged and has a 2-year-old daughter, he recently spoke to the woman briefly after she picked up her car.
His family towing company towed her car for free. He said, that since she has been through a lot, they didn't charge her for anything.
He adds that the lady was grateful and she was confident that God would send somebody to help her and it was him.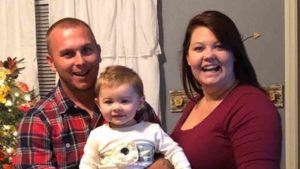 He added: "I just want people to stop and help. Always be willing to stop and help somebody."
What a wonderful thought, how different this world would be if everyone would show kindness to others.