Johnny Lauder, former policeman brave through the floods caused by hurricane Ian to recue his 84-year-old mom.
"In these times of darkness, we need a little bit of light to smile. I love those stories, I just never thought I'd be one' said Lauder.
The 84-year-old mom had refused to leave earlier but the water levels rose higher and higher as time passed. She continued to update her son up until it reached her neck. That was when her son, Johnny Lauder, decided to go to her and move her out to safety with the rest of the family.
As he swam out into the flooded street to rescue his mom who was four blocks away from his house. He found a life jacket, floatation device and even a kayak which had help him  reach at his mom's safely, mentally struggling within himself all the while.
He humourously quips that he was an 'aquaman' that day.
He recorded the entire incident on his phone, even sending selfies to his family and his wife who was in Vegas.
"I was not worried about myself. I am worried about them worrying about me" said the former Chicago policeman.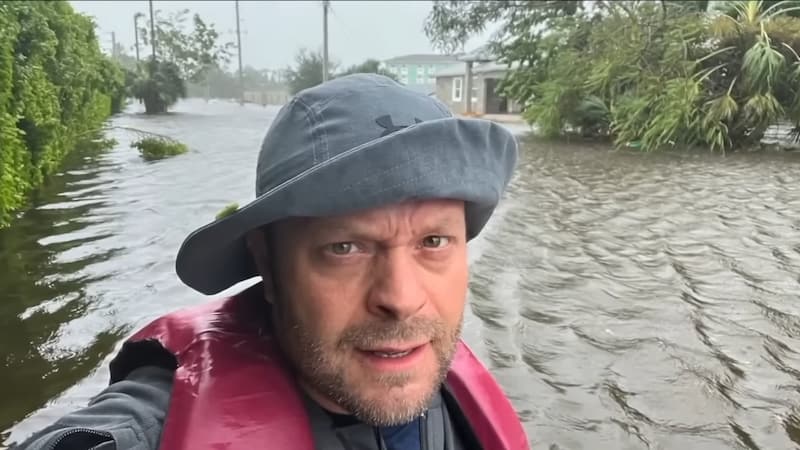 40 minutes into the journey through the flooded street, he finally reached the house and found her mom shivering but smiling as she saw her son coming to rescue her.
She was immediately wrapped up in dry sheets to prevent her from going into hypothermia. Granny was then moved out of dangers in a wheelchair with the help of Xavier, one of Lauder's son who had followed after his dad to get there.
Recalling the whole incident where he had to push through the  dangerous waters, more so through his own mind with the fears and possibility of everything turning into a tragedy. Johnny said," Like a computer, you have two buttons, you have power and reset. Thank God, it was my reset button that was hit and we can push forward".