A heartwarming photo shot outside the hospital room of a COVID-19 unit leader who recently died of COVID-19 shows fellow staff members, praying together.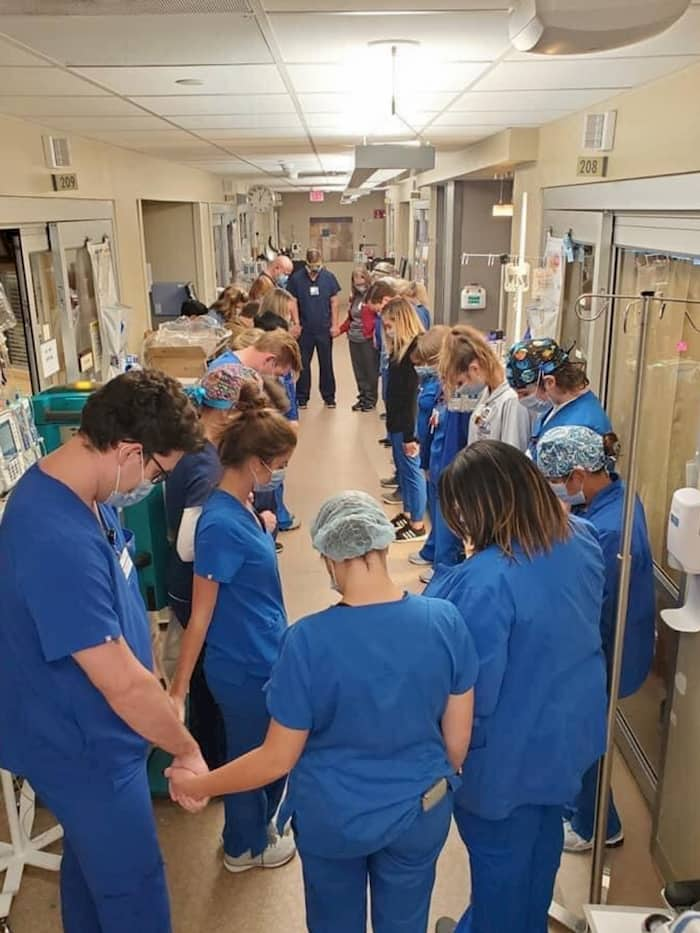 Gary Woodward was one of St. Thomas West Hospital's leaders of the Covid unit who recently died fighting against it. "Look at this sea of blue gathered outside of Gary's room," ICU nurse Chris Hutchinson said. "For two nights, nurses from all over the hospital have gathered and prayed and placed Gary's healing in God's hands!!"
"What an amazing, powerful, humbling experience this is to have all of these nurses, respiratory therapists, NPs, doctors, techs… everyone gathered together in his name!"
Gary Woodward, 64, died in the early hours of Saturday at Ascension Saint Thomas West Hospital in Nashville. "We knew that there was a good risk that either one of us could end up testing positive," his wife Jacque Woodward, said. "This is the first time he's ever been in the hospital for an overnight stay, he has no other diagnosis."
Woodward was on a ventilator and undergoing dialysis due to kidney failure, this virus has taken a healthy man with no prior medical conditions and impacted every organ in his body," Jacque said.
A mentor to countless nurses, and other team members with a servant's heart, he provided the best care for his patients and his coworkers, read his obituary.