A New South Wales girl in Australia with a terminal illness was made a police officer for a day and helped track down a "cunning thief" before her fourth birthday.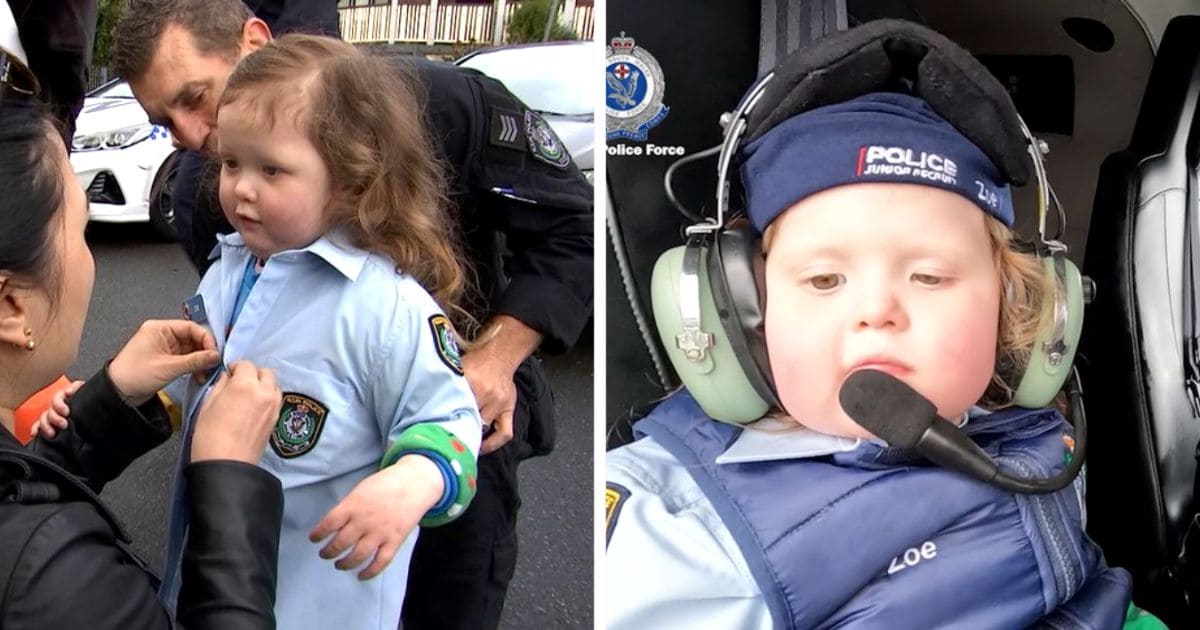 Zoe wanted to be a police officer and her heart's desire was fulfilled last week. Last Tuesday she met with NSW Police Force penguin mascot Constable Charlie at Bear Cottage in Manly, in Sydney's north.
Police officers and Constable Charlie wanted to give the little girl a birthday gift but suddenly out of nowhere a hooded man referred to as a "sly bandit" snatched the gift from them and ran away.
Zoe joined the police force as a Junior Recruit to catch the rogue. The chase saw them taking to land, water, and air before they finally spotted the thief from the skies.
They landed on the hill at North Fort, where Zoe got help from specialist officers from the Tactical Operations Unit to arrest the thief hiding in a nearby carpark.
Zoe's present was returned to her and her mother said Zoe was very proud of herself, and thanked police for making her "dream come true".
Huyen said, "After the special day she concluded that 'it was hard to be a police officer', but she is still sure that she wants to be a police officer in the future," she said.
"We will continue to talk about her dreams and hopes regardless of what life brings because it keeps us going and getting through every day."
Zoe has diffuse intrinsic pontine glioma, an aggressive childhood cancer affecting 20 children in Australia every year with no effective treatment. Children are expected to live only 9-12 months after diagnosis. Meanwhile, Zoe celebrated her fourth birthday surrounded by her family.
Zoe was commended for her hard work by NSW Police Commissioner Karen Webb who said, "On behalf of a grateful Police Force, I would like to thank Constable Zoe for her tremendous efforts," she said. "I wish you a very happy birthday Zoe and send you a big Commissioner hug."
Meet Constable Zoe 💖

Four-year-old Zoe became instant best friends with NSW Police Force Penguin, Constable Charlie, after meeting at the Bear Cottage's annual Superhero Day last month.

Zoe and Constable Charlie made plans to meet up last week ahead of Zoe's birthday – which is today (Thursday 18 August 2022) !!

Constable Charlie and police friends attended Bear Cottage at Manly to give Zoe a birthday present, however, a sly bandit pounced and snatched the present from their grasp!

As the unknown man fled the scene in a white van, Zoe transformed into NSW Police Force Junior Recruit ✨ Constable Zoe ✨ and led the chase for the thief in the grey hoodie with Northern Beaches Police.

A pursuit was initiated along Darley Road, before Constable Zoe called upon the assistance of the Marine Area Command, as the thief took to the waters off Manly in his black speedboat.

During a high-speed chase through Sydney Harbour, the thief managed to get away. But not for long!

After speaking with specialist officers from the "Seal Intelligence Unit" on the steps of a nearby dock, Constable Zoe had reason to believe the thief had returned to land.

Taking the search sky high in PolAir, Constable Zoe located the suspect within minutes. Landing on the hill at North Fort, she rallied the help of specialist officers from the Tactical Operations Unit and arrested the hooded thief hiding in a nearby carpark.

The present was located, seized and immediately returned to Constable Zoe.

Thank you for your incredible bravery, Constable Zoe! From all of us here at NSW Police Force, we wish you the happiest birthday 💙

Zoe is fighting Diffuse Intrinsic Pontine Glioma (DIPG), the most aggressive of all childhood cancers. Each year, about 20 Australian children are diagnosed with this incurable form of brain cancer. There are no effective treatments for DIPG, and current therapeutic strategies are essentially palliative.

Posted by NSW Police Force on Wednesday, 17 August 2022