This good-hearted police officer's offer to give them a lift was greatly appreciated by this elderly couple, especially the wife. She was almost on the verge of collapsing when the officer saw them.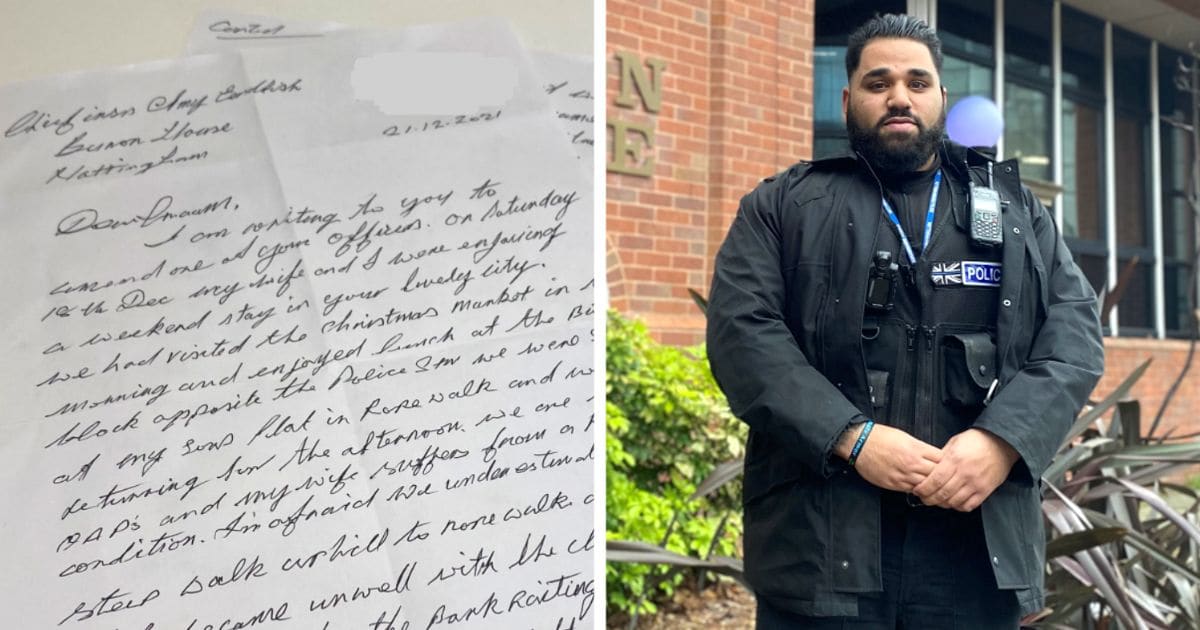 PC Sam Warren spotted the elderly couple walking up a hill in Park Row, Nottingham city center.
"I was driving at the back of the police station and could see the lady was struggling for breath and was leant against a signpost," Sam recalled. "I wound down my window and asked if they were okay. The husband said his wife had a heart condition and was unable to continue up the hill."
He then offered to give them a lift. "I asked if they wanted a lift or if I could take her to the hospital if she wanted to get checked out. She didn't want to go to [the] hospital, so I gave them a lift to their son's flat, which is where they were staying as they weren't from Nottingham. They said the flat was at the top of a steep hill, so I offered to help them and gave them a lift."
"I helped her into the car, and she held onto me as I got her to the door of the flat and made sure they got inside okay," Sam finished his story.
"Both of them really appreciated the help. The husband said they didn't come to Nottingham much, but that it was good the local police look out for people," he narrated.
Sam thought that their encounter had already ended, but the thankful couple wanted to express their gratitude in a way he did not expect.
The husband penned a letter of appreciation and addressed it to city center Chief Inspector Amy English. He wrote:
Dear Chief Inspector English,
I am writing to you to commend one of your officers. On Saturday, 18th December my wife and I were enjoying a weekend stay in your lovely city. We had visited the Christmas Market in the morning and enjoyed lunch opposite the police station.
We were staying at my son's flat in The Ropewalk and were retiring for the afternoon. We are both OAPs, and my wife suffers from a heart condition. I'm afraid we underestimated the steep walk uphill to The Ropewalk, and my wife became unwell with the climb. We were stranded by some railings, my wife unable to continue and at the point of collapse.
Just at this point, a police car slowly passed us and stopped. An officer emerged and asked if we were okay. After explaining our predicament, he asked if we needed to go to [the] hospital or a lift back to our address in the car, which we accepted. He even helped my wife from the car and into the building on The Ropewalk.
In the excitement, I forgot to ask his name but thanked him for his assistance. I just thought his efforts should not go unnoticed and commend him for his diligence and quick-thinking, as I don't know what may have become of us. My wife is now recovered, and we are eternally grateful to him.
Chief Inspector Amy said in return, "One of the most rewarding and satisfying aspects of being a police officer is the unique opportunity to help people in their hour of need."
"Our job is to serve the public, and it is [a] testament of PC Warren's empathy and dedication to serving the local community that he came to the couple's aid. I am pleased he has received recognition for his act of kindness, and I would like to thank the couple for sending in the letter and Christmas card."
"I am also pleased to learn the lady has since recovered, and on behalf of the force, I send our best wishes to the couple. We hope they are able to visit Nottingham again soon."
Sam was thankful to receive a Christmas card and a thank you note from the sweet couple. He said, "I didn't expect that. I would have done it for anyone because it was the right thing to do. It leads into the force's PROUD values (Professional; Respect for all; One team; Utmost Integrity, Trust, and Honesty; doing it differently).
"It's a good feeling that they've taken the time to write a letter and that they appreciated my help. Not everyone appreciates the police, but ultimately we're the first people somebody calls when they're in trouble or need help from something like a car accident, or they've been a victim of crime."
The greatest reward one can ever receive from helping others is the sense of fulfillment from doing it. Making someone feel the love of God through a smile, a short chat, an extra hand makes a difference one never expected. In this case, a lift offered saved a woman's life.
"Do not withhold good from those to whom it is due when it is in your power to act." Proverbs 3:27