The country has been torn apart with riots, violence, and heated debates due to racial tensions after the death of George Floyd on May 25.
But on Saturday, a photograph shared on social media has given hope to all those praying for peace to return back to America and the end of the tragedy and chaos.
The photo shows Officer Garren Hoskins of the Metro Nashville Police Department in Nashville, Tennessee, hugging a masked protester as they pray together.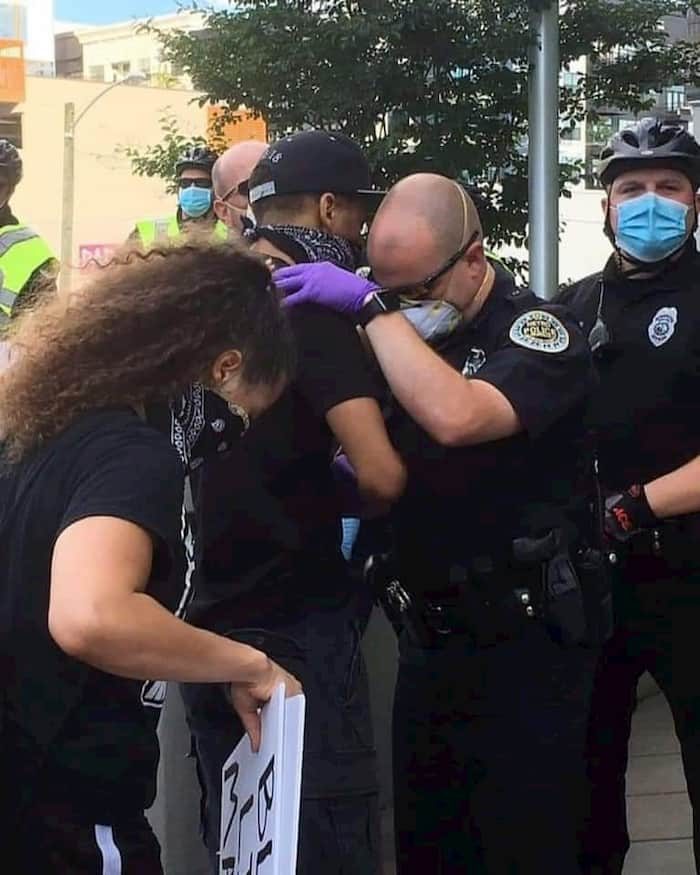 In the middle of the confrontation between protesters & officers at the Central Precinct, Officer Garren Hoskins and the protester can be seen talking about their shared Christian faith.
Hoskins then asked the man to join him in prayer and he put his sign down and they prayed together. The officer asked the protester to pray with him, which was captured the amazing photo which is giving people hope in a hopeless situation.
After the prayer, there were fires set in the Nashville historic courthouse and City Hall, and many buildings were vandalized and police cars were smashed, with 28 people getting arrested.
In Jamestown, New York, on Sunday, prayer again brought people together when nearly 100 people gathered at the city's Dow Park, Jamestown Mayor Eddie Sundquist, Jamestown Police Chief Harry Snellings, and Chautauqua County Sheriff Jim Quattrone came to engage in a dialogue with the protesters.
#WATCH: Demand for law enforcement reform led to dialog between police and protesters during a Black Lives Matter demonstration Sunday afternoon in Jamestown.

Click the link for more: https://wnynewsnow.com/2020/05/31/black-lives-matter-protest-happening-in-jamestown/

Posted by WNY News Now on Sunday, May 31, 2020
Soon the whole event ended with a powerful moment of prayer. "Lord we thank you for this time where we're able to gather together in unity, as a community, to demand change," one of the protesters prayed.
"Holy Spirit, come and bring truth, come and bring life, come and bring love, come, and bring unity."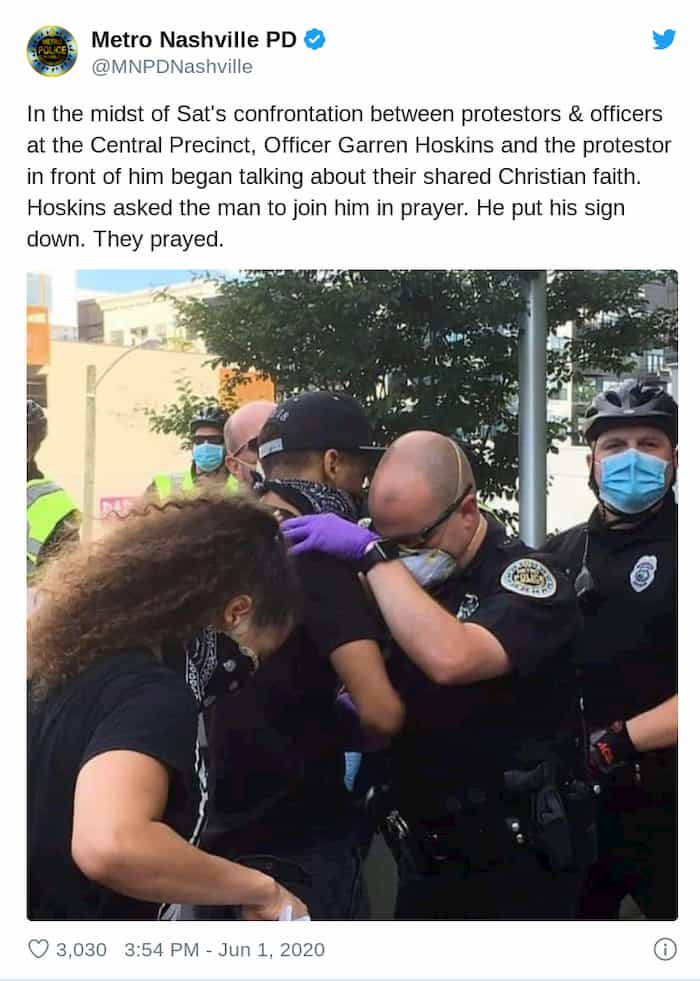 In another heartwrenching incident, small business owner and former firefighter K.B. Balla lost the business he had poured his entire life savings when it was burned down by rioters.
By Monday however, 33,000 people donated to the owner's GoFundMe page, resulting in $1,011,850 in donations to rebuild all he had lost.
"This has been such an eye opening experience. The world has pourd into me and my family to support our business. At the same time being a resident of Minnesota and member of the community we have to do our part," Balla wrote on the GoFundMe page.
The ease that so many politicians and commentators have at encouraging this anarchy signals a pathology and wickedness, in my opinion. People's lives are not yours to play with. If you support "burning it down," volunteer your home. Don't volunteer on behalf of others. pic.twitter.com/FhEAJNw6PH

— Andy Ngô (@MrAndyNgo) May 29, 2020
"It has been remarkable that even through our greif we have found ways to comfort and support each other."
Our prayers and thoughts are with all those who have lost loved ones and their belongings in this gruesome time of riots and arson spreading across our nation. Only the Lord God can change everything and restore back the peace and heal the hearts of people all over.