A mom is winning the hearts of online users after she posted a first day of school picture even though her family had been through a grueling week of national as well as personal loss.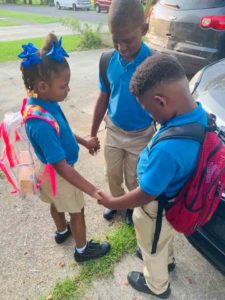 Jamisha Harris, 28, put up a picture of her 3 children, Eugene, Jorden and Emily, praying together with their heads bowed and hands clasped before their first day of school. She said that they were going through a tough time after she and her husband had recently lost their jobs and the family lost their apartment a day earlier.
But in spite of it all, she said she was thankful that her children were safe and alive. Dear God," she began the post. "This morning I'm feeling nervous and a little unsure but thankful." She wrote, "All day every day I think about my children and that I'm not at school with them to protect them if any tragedies [were] to happen," Harris said.
Harris wrote, "Because of the recent tragedies that's been happening all over the world it's no peace in being a mother because I'm always worried about shooters, bullying, sexual assault … anything that can harm my children." She added, "I pray for my children on their first day of school," her Facebook post continued. "God, I give them to You. And I ask that this school year you would use every person and every experience and every lesson to shape them into Your image, to grow in them, the fruit of Your Spirit."
Her post quickly went viral, with other mothers commenting and liking it, Harris said she hopes the photo inspires and encourages others. Her post has been a reminder to others that through prayer, we can find the way to peace and harmony in a world full of violence and trouble.
Harris said, that their family always prays together in the morning, "They may have taken praying out of schools but not out of God's children," she said.
She added, "With all these tragedies happening the only thing I can do is raise them right and educate them on life and to always pray together." She continued, "We pray for everyone," she added. "Teachers, bus driver, friends, family members, we pray for a change and peace."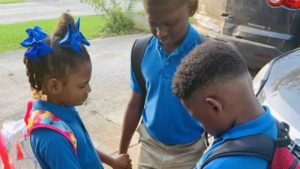 Prayer has always and will always be the answer to every problem and question in life, the word of God tells us in Philippians 4:6 "Do not be anxious about anything, but in everything, by prayer and petition, with thanksgiving, present your requests to God."