A woman was able to finish her 68th marathon on Oct. 3, with the help of a prison inmate on work release.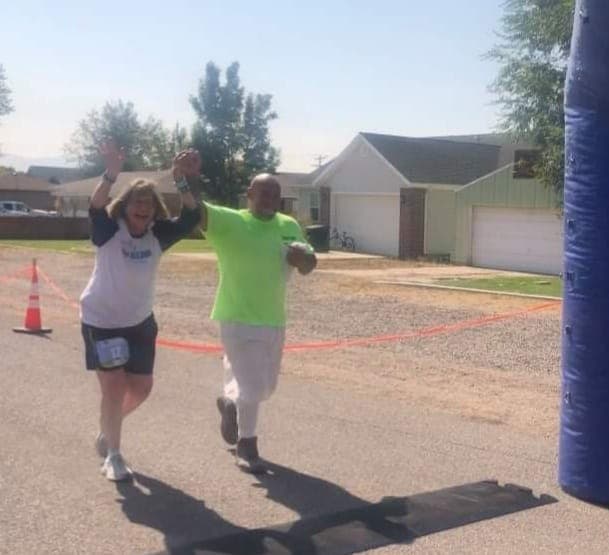 Carrie Kelley of Sandy was competing in the Beaver Creek Marathon and 4 miles into the 26.2-mile trek, Kelley found herself struggling and thought about exiting. But at that very moment, Kelley heard footsteps behind her which belonged to a man who was a prison inmate out on work release and they both ended up running the remaining 22 miles together.
Beaver Canyon Marathon race director Amy Albrecht said, there were a few inmates from the Utah Department of Corrections who were, with the supervision of a correctional deputy, charged with the task of setup and cleanup efforts at the event.
Act of kindness
Fidel Ybarra, one of the prison inmates noticed that Kelley was struggling and ran by her side to help her to the finish line. "Without Fidel's help, I wouldn't have been able to finish," Kelley wrote in a Facebook post. "I was that broken and injured. Fidel isn't a runner but he's one of those people who is a true athlete. He ran 22 miles in old work boots and long johns in the hot sun with no prior training. … I saw how much pain Fidel was in, but he wouldn't quit because he didn't want me to run alone."
Ybarra said the 22 mile run was very difficult, but was moved when he saw Kelley running all by herself in the back, and could relate with her and decided to help her out.
Communications director of the Utah Department of Corrections, said that Ybarra wrote the following: "As people progressed through the marathon, we would pick up discarded clothing as well as trash," Ybarra wrote. "While walking and talking with the deputy that was supervising us, a name came up of a dedicated marathon runner, Carrie Kelley, who was running in the Beaver Canyon Marathon, but due to some injuries she was having a hard time running. She was the last runner and we eventually caught up to her.
"I am not sure why I began running with her, but I think maybe I saw a little bit of myself and other inmates in the situation. We are normally left at the back and left to our own devices. I could tell how much she enjoyed running, and I felt like I could not let her finish the marathon alone. I did not know that once I started running, 22 miles later we would cross the finish line. I could have stopped and jumped in the work van with the deputy that was following us, but something kept me going. I feel like by the end I was in more pain than her, but the feeling of accomplishment was more than I can describe in words."
"I don't know his past mistakes, but what he did showed his true character."
–Amy Albrecth, Race Director
Albrecht witnessed the two cross the finish line and said that it was one of the moving moments she has ever seen. "Watching the two of them cross together had everyone in tears," Albrecht said. "It was so moving, and one of the neatest things I have ever seen. I don't know his past mistakes, but what he did showed his true character. We were able to find his mother's address to send her his medal, because he deserves it for what he did that day."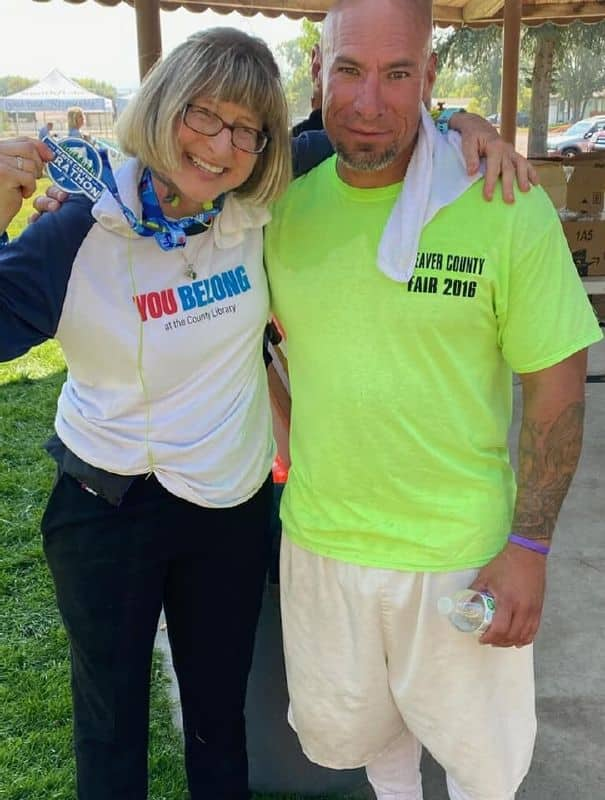 The Beaver Canyon Marathon was Kelley's 68th marathon, and she said it was her most memorable because of the kindness shown to her by Ybarra.
"Fidel has really kind eyes, but underneath he's got this gritty determination to finish the job no matter how hard it is," she wrote in an email. "I just can't say enough about how much Fidel helped me out when I was mentally and physically at one of my worst moments in my life. This had been a year of failure and disappointments, as it has been for so many people, and the thought of dropping out of this race would've been one more failure for me. Then Fidel came along and made what could've been the worst day of my life into one of the best days ever! He's got a special place in my heart."