1 Peter 3:21 " And this water symbolizes baptism that now saves you also—not the removal of dirt from the body but the pledge of a clear conscience toward God. It saves you by the resurrection of Jesus Christ."
It was an emotional experience for Liverpool football stars Roberto Firmino and Alisson Becker after "Bobby" (Roberto Firmino)  went through an emotional Christian baptism. The Brazilian forward took to social media to share a video on Instagram showing his teammate helping him through the ceremony in the presence of family and friends.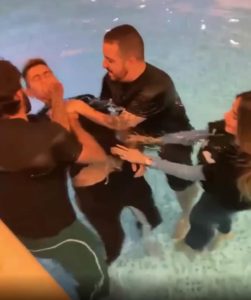 The clip shows Firmino walking down into the pool where Alisson is waiting at the bottom of the steps. Firmino and his wife, Larissa and another man are there supporting as they lower the 28-year-old into the water alongside Alisson.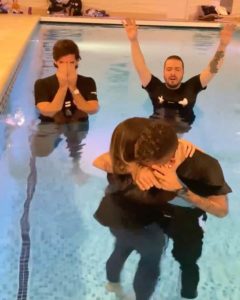 Firmino can be seen emerging from the water punching the air and embracing his sobbing spouse, and Alisson can also be seen wiping away tears from his eyes after witnessing this momentous day.
Watch: Liverpool star Roberto Firmino gets Baptized
View this post on Instagram
Roberto thanked God for all he has achieved, saying, "I gave my failures and the victories I will give you too. My greatest title is Your Love Jesus. Therefore, if anyone is in Christ, he is a new creation."
View this post on Instagram
We congratulate Firmino on his baptism, and we praise God for the courage and for the love of God in his heart which has helped him take this important step.