The holiday season is a time when everything seems so magical and perfect but it is also a very difficult time for those who are sick or have sick relatives in hospital.
Nurses and doctors at a hospital in Texas decided to brighten up the day for the children and make it as festive as possible by giving them a special visit from Santa Claus.
Santa visited them and tried his best to distract them from their illnesses by playing and entertaining them. But that was not all Santa did, according to a Director at the hospital, who shared a post on the incident on their Facebook which has been shared  more than 19,000 times said, "I keep getting choked up with this photo," Mariana Whitley Tumlinson wrote.
"Today, after Santa visited our patients and was on his way out, he noticed our Chapel." "I, of course, said yes," she continued. "I didn't walk in with him right away but when I did I was so moved by this image I had to capture it."
Santa was on his knees praying to Jesus for the children.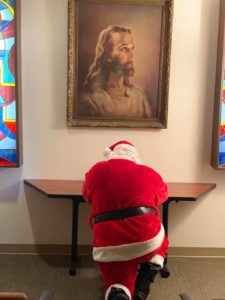 How amazing, it reminds us that Jesus is the reason for the season and even Santa acknowledges it and bows before Him.