The new Golf Masters champion Scottie Scheffler claims to "glorify God" through his career and gives Him all the credit for his success in the sport.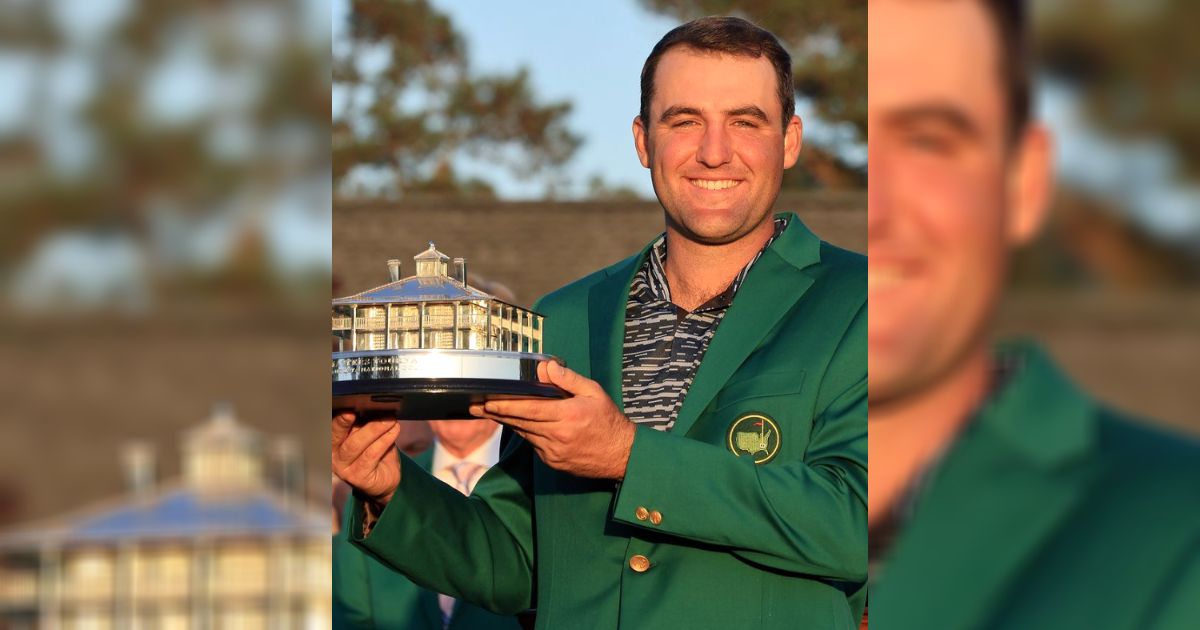 It's not common to see a sports champion take away the spotlight from their talent and give it to God but this 25-year-old golf player doesn't mince words when he gives God all the credit.
Speaking in an interview after he was newly crowned Master Golfer He says, "That all goes back to my faith," He said that the reason he played golf was: I'm trying to glorify God and all that He's done in my life."
He shared about how he and his wife Meredith spend time in prayer and seeking the Lord's will for their lives and that is such an amazing thing to see in this young generation of sports stars.
Speaking about how his life is much more than a "golf score" he said his wife, Meredith, reminded him about this reality. He said, "Like Meredith told me this morning, she says, 'If you win this golf tournament today if you lose this golf tournament by 10 shots if you never win another golf tournament again,' she goes, 'I'm still going to love you, you're still going to be the same person, Jesus loves you, and nothing changes,'" Scheffler said. "And all I'm trying to do is glorify God, and that's why I'm here, and that's why I'm in this position."
The pressure that sport stars face due to the highly competitive sport cannot be emphasized enough and so Scheffler's wife regularly prays so that he experiences peace on the golf course. The faithful Christian said his motto in life is to experience "God's presence" in all he does.
He said, "Every day when we go out there, Meredith always prays for peace, because that's what I want to feel on the golf course, is peace and have fun and just feel His presence," he said. "So that's her prayer every day. That's my prayer, and I really felt that today. I felt at peace."
It wasn't easy for Scheffler as he was competing with the best in the golf tournament and on Sunday morning he was not feeling ready for it, but he says that he understood his purpose in life and calling depended on God and not on how he was feeling. "[My wife] told me, 'Who are you to say that you're not ready?' Who am I to say that I know what's best for my life?" he said. "What we talked about is: God is in control, and the Lord is leading me, and if today's my time, then it's my time."
Now after a huge first PGA win, Scheffler is crediting the Lord for helping him outshine his competitors. "Overwhelmed at getting my first PGA Tour win. So thankful to the Lord, Teddy, our families and friends, and everyone else a part of the team," he wrote in an Instagram post. "An unbelievable experience we will never forget.
His recent performances have improved considerably Scheffler's worldwide golf ranking and now after he became this year's Masters champion he's on top of the world. Apart from lifting the trophy, he has pocketed a cool $2.7 million in prize money. What a blessing from the Lord!
"But blessed is the one who trusts in the Lord, whose confidence is in him. They will be like a tree planted by the water that sends out its roots by the stream. It does not fear when heat comes; its leaves are always green. It has no worries in a year of drought and never fails to bear fruit." Jeremiah 17:7-8.