Burn survivor, Chris Tomlinson shares his life story with thousands of people inspiring them never to take their lives for granted but live out their lives according to the purpose of God.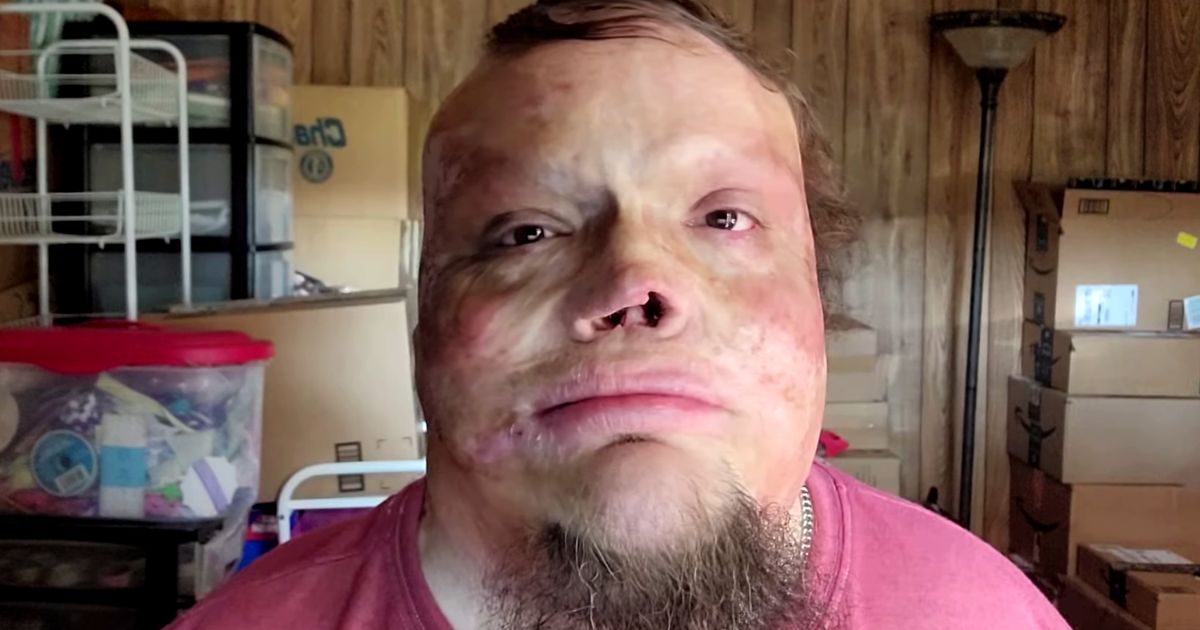 Tomlinson suffered a horrific accident at the age of two when he was playing in his family home's backyard which left him with horrible burns on his body.
But today, he is a dad of two wonderful daughters and although finding regular work is difficult due to his condition, he still gives glory to God in everything.
His ordeal started when as a toddler he wandered into a shed in the backyard where he knocked a can of gasoline all over him and he suffered burns after the pilot light on the hot water heater turned on, igniting the gas.
It resulted in him being covered in flames and suffering 98% burns all over his body. His mom rescued and rushed him to the hospital, but doctors only gave him a 1% chance of survival.
At a time like this, his family chose to believe God rather than the doctor's reports and continued praying over him which resulted in a miracle for Chris.
He survived that terrible accident spending a lot of time in hospitals undergoing more than 200 surgeries, but yet Tomlinson remained positive due to his faith in Jesus Christ.
The fighter in Tomlinson never allowed his past experiences to bog him down instead he says, "I always found the positivity in everything," he said. "I had this big old smile on my face because I knew God was with me… It wasn't just by my own strength, it was God who was there for me the whole time."
Among the many Bible verses that he leaned on during his difficult surgeries and painful recoveries, he said he got strength from this one: "When I am afraid, I will put my trust in you." Psalm 53:3
As he put all his trust in God's word, God was working in his life in wonderful ways. When the doctors told him he'd not be able to have kids, Chris had two daughters.
But life is difficult for people with disabilities like him and Tomlinson shares that because of his looks he has been stared at, questioned, and judged all his life.
It has also been one of the reasons for him not finding a job even though he says he's tried looking for work as a computer technician as employers deem him "physically unfit" for the job.
Tomlinson and his family ended up homeless after their apartment rent increased but still Chris held onto his faith and trusted God through everything. Tomlinson took to social media to share what he was going through and start a conversation on how people with disabilities suffered to even get a job in this world.
God was with Tomlinson and used his story to touch the lives of many and used him to give advice and encourage other burn victims as well. He was being used to help others through his story and God used many to help him get back on his feet.
Life dealt another blow to him when his wife of 14 years left him to raise two daughters on his own. "It's horrible," Chris said describing the pain he felt during the betrayal. "I'd rather be burned all over again than to experience that pain."
At that difficult time, he drew strength from his children and decided to focus on them. "I looked at my kids and they were smiling at me and they hugged me," he recalled. "And I was like, 'This is my purpose. This is what I need to do — they need me.'"
This twist in life made Tomlinson move back to his hometown in Florida from Massachusetts where he had been receiving treatment at the Shriner's Burn Institue in Boston and grew up and got married there.
Finally, when Tomlinson landed back at Plant City, Florida, to attend a relative's funeral, it was there that he attended a church where he felt a deep, spiritual connection. But a car accident there changed his life completely and made him decide to stay in his hometown and share his testimony to inspire and encourage others.
Watch: Burn Victim Dad Chris Tomlinson Shares His Inspiring Testimony
Tomlinson still has the cares of the world troubling him but he has a community of believers to help him ride over the tide. He is sharing his life-transforming story to encourage others today. He is not only a burn victim but a brave dad as his story is filled with victories.
He says, "It's a big passion of mine to get my story out there. Again, not for me but to bring the glory to God," he explained. "Because a lot of people think God's not working anymore — God doesn't do miracles. God does miracles every second every day. All you got to do is look around you."
What a powerful testimony of a man who wasn't supposed to be alive, get married and have children but just look at him now, he has defied the doctors and is thriving today. All this was possible only because he trusted in God and made him his rock and refuge.
Watch: Burn Victim Chris Tomlinson Shares His Story