Everything was going well for this 13-year-old kid until he met with an accident. His skull was crushed in addition to other major brain injuries. Thanks to the fervent prayers of a lot of people, he was restored to health!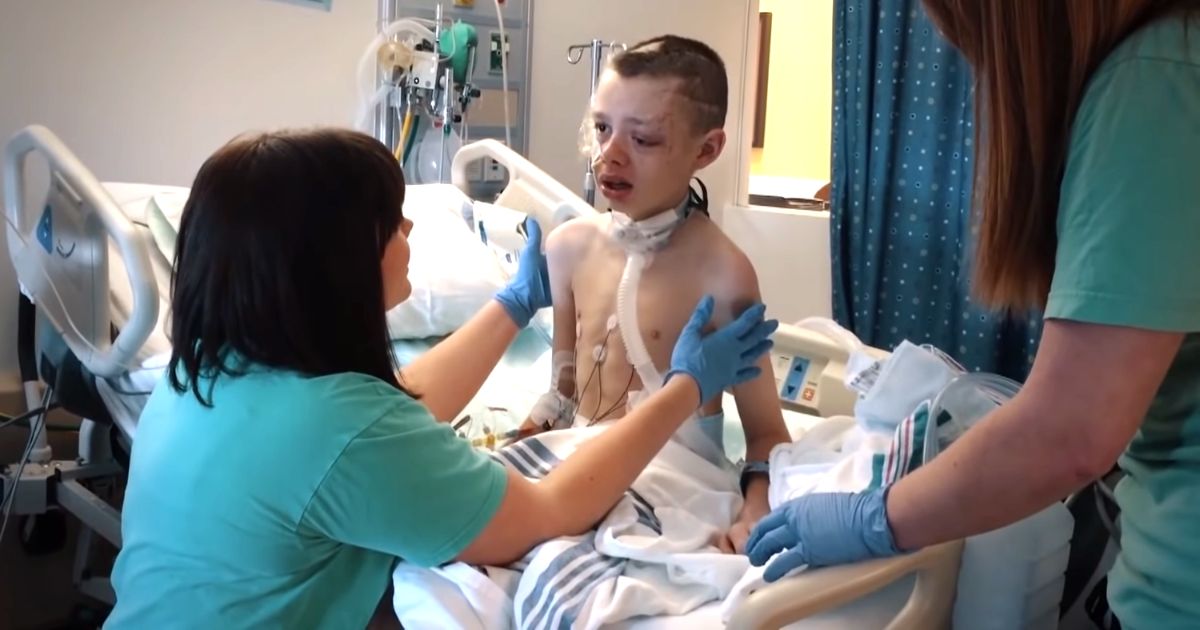 This car accident happened when a truck broadsided a van because the former failed to yield the right of way. Unfortunately, Jerry Higgins and his grandkids, Cey and Traden were in the van. "I heard Cey say, "Traden, wake up! Traden, wake up!" Jerry narrated in an interview with CBN. Jerry and Cey were unharmed, but it was another story for Traden's case.
His skull was crushed and he was bleeding profusely. The paramedics came and Jerry immediately called Manda Karch, Traden's mom. "He was unconscious, and he said there was just blood everywhere and that he kind of had a few seizures," Manda explained. Traden was taken to Saint Francis Hospital in Tulsa, Oklahoma. The moment she got there, she immediately texted and asked people to pray for him.
The young boy immediately went under the knife. However, the prognosis was unfavorable. "The doctors and the nurses had all told us that they thought he would live for maybe 24 hours," Manda recalled. Friends and family members came to show support and prayed for him. She was thankful to see all of them. "So that was a blessing, you know, to have just so many people automatically praying for him," she added.
Manda displayed great faith the moment she learned about the accident. She said, "I just cried out to God and I said, "God, you knew this was going to happen. It didn't catch you by surprise, and so I trust you. I know that he's in your hands and you're in complete control." Knowing how powerful prayers can be, they even, posted on Social media prayer requests for their son. Chris Karch, Traden's dad narrated, "It was a desperate plea, basically just saying if you're a praying person please pray. I need as many people praying to God as I possibly can."
The surgery was finished after six long hours. He was placed in a medically-induced coma. The doctors said that they have done everything they could for Traden. The rest was up to him. They were also informed that he could never walk or talk. He would be in a vegetative state in case he recovers. "We really had no idea what was going to happen or if he was going to wake up," Chris said.
This pause brought memories back to the family. Traden was a promising young golfer. Before the accident, he made a winning putt for his team at the Junior PGA Regional Final. A lot of people encouraged them including PGA. Rory Mcilroy, one of Traden's favorite golfers, even sent him an uplifting message. "And I wish you a really speedy recovery. Golf and the PGA Junior League really need you. And when you're feeling better, I want you to come to a tournament and meet me and we can hang out. And hopefully, we'll see you soon," he said in a video.
Three weeks after the surgery, the swelling of his brain subsided and he finally, woke up. "He starts sitting up on his own. And then only a week later does he start walking around the hospital with assistance. Each day they would see his progress. Every doctor would come in and just say how he was a miracle," Manda emotionally recalled. Traden came out of the hospital after five weeks only.
He went into rehab soon after. However, Traden faced another set of hurdles. He could not talk and lost his memory. He underwent therapies and had to relearn everything he knew when he was a kindergarten. The first word he uttered was 'mom'. Manda and her family clung to their faith once more as they helped him to function as a normal kid again.
Then, Chris had a brilliant idea! He brought Traden's putter to him. He was hoping that he has not forgotten the sport.
"That's when I knew. I was like it – that part has stayed because he gripped the exact same way. We were excited about that," Chris said. Thankfully, he has not lost his flair for the sport he really loved. After two months, he finally went home from rehab.
By fall, he came back to school to finish 7th grade that year. He had watched Rory Mcilroy's video many times, hoping that he'd be able to meet him one day. That dream became a reality when they finally met. The young golfer said, "I remember he walked in and my mind was like, "Huh, is this really him?" and, sure enough, it was."
Traden, who is now 17, still plays golf and one can barely see a trace of his speech impediment and memory lapses. Chris was convinced that prayers healed his son. "I was there I heard the prognosis, and I knew what we were looking at. God healed Traden, there's no doubt," he said with conviction.
Traden knew in his heart that prayers result in miracles, "In my opinion, the only reason why I'm still alive is people praying," he explained.
Manda perfectly summed up their journey of faith through these words–"There is so much power in prayer. I mean I believe that we have the same power, we can call upon the same power that raised Christ from the dead. And so, you have to call upon that power."