In a show of solidarity with their classmate with special needs, the students at an elementary school in North Carolina include their classmate during a game of basketball.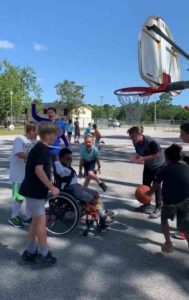 A video shared by a teacher at Topsail Elementary School captured fifth graders playing with a third grade student from the school's special needs program. The boys were cheering loudly for the boy and one student helped pushed his wheelchair forward.
When it was the turn for the boy's shot, another child dunked it for him and then they all cheered loudly and high-fived him for the score. "Some lessons can't be taught in a classroom," the school wrote for the video.
Matthew 10:42, "And whoever gives one of these little ones even a cup of cold water because he is a disciple, truly, I say to you, he will by no means lose his reward."
God keeps a record of our generosity to the vulnerable and needy around us. He is extremely detailed and even keeps record of water given in his name!