A cute clip of a janitor being applaused by lines of students singing 'Happy Birthday' to him is sweeping the internet.
Haze Mabry, works as a janitor at an elementary school in Georgia and has the same routine of cleaning the floors, wiping down bathrooms etc. But recently when he showed up at Pike County Elementary, he found 800 students lined up in the hallways, holding banners and singing happy birthday to him.
Mabry had turned 80 that day, and the students chanted, "Mr. Haze! Mr. Haze!" and some even jumped to hug him. Shocked by this surprise, Mabry thanked everyone one of them as they were handing him bucket full of cards.
Mabry said, "They're like my children," and "I'm like the old lady in the shoe."
He's familiar with most of the kids in the school, who range from third to fifth grade. They come to him when they are not feeling well- he sends them to the nurse and even listens to them when they tell him something that happened during recess.
Mabry adds, "I know the little faces, but I don't know every name," some of them make you know them." Like two of the students Faith and Lucy. "Faith comes up to hug me and says, 'Lucy, you can't hug Mr. Haze, he's my friend,' " added Mabry.
He wasn't planning to do anything for his birthday since he's already done so many. He was glad the students made a huge fuss about it. Mabry says he doesn't feel like a celebrity but he sure does feel loved.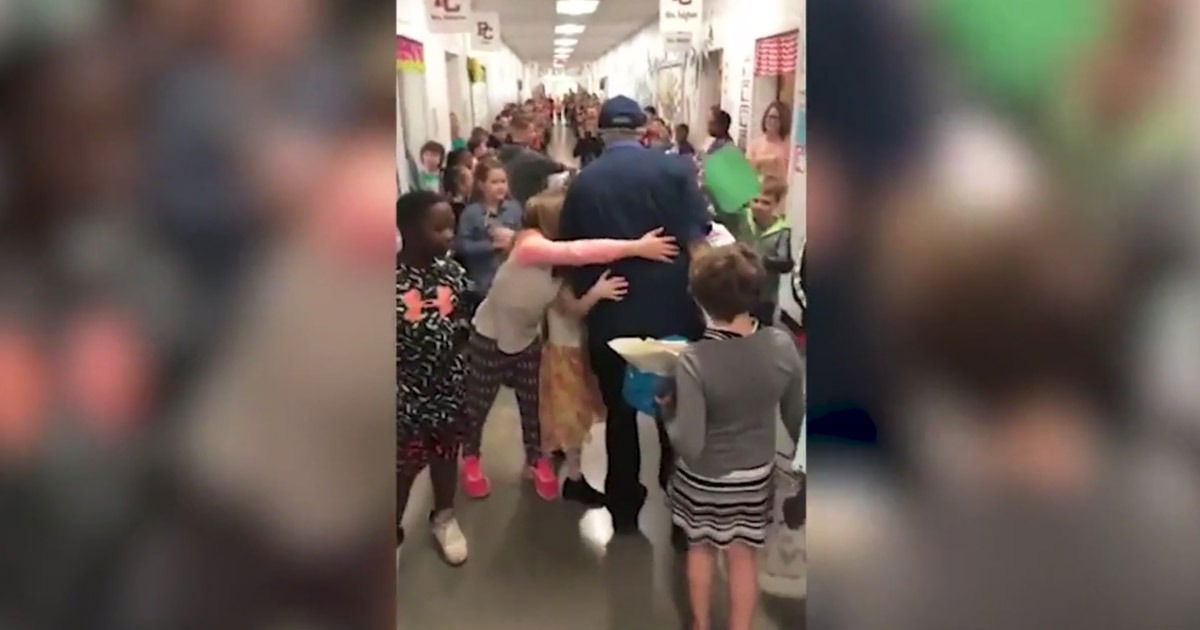 Lori Gilreath, a reading teacher and the one who organized the surprise celebration said, "He's the most loved person in this whole building," and "He won't brag on himself, but it doesn't matter what he's doing or where he is, he will always stop what he's doing to take care of a child if that child is having a bad day."
Mabry's birthday began with his wife Bill Mabry, of 56 years singing him happy birthday and him trying to do flossing, a viral dance popular with young people. He said, "My wife was singing happy birthday, and I was dancing, if you can call it dancing. I'm not a good dancer," "You know this little thing called the floss? I was trying to floss. No, I cannot floss."
Mabry arrives at 6:30 a.m. and doesn't leave the school until 5:30 p.m. He has been a janitor at Pike County Elementary for 13 years.
He was one of nine siblings who grew up picking cotton and peppers not so far from the school. He is very popular among the students cause he has been a steady presence in their lives said Gilreath, whose three children graduated from the school.
She adds, "He doesn't expect a lot," and "He just wants to work hard and love on people." He gives every student his undivided attention when they need it.
He worked at a textile factory for 35 years which they closed down so he had to switch jobs to support his family of six. As an Army veteran, he knew how to clean and tidy up. So he took up a custodial job when he was 67, even though he's never worked as a janitor before.
"It's hard to keep up with him.""Mr. Haze, he works circles around all of us," Gilreath said. Marby said that he will look through all of the cards. Calling out a card that stood out to him. It said: "Mr. Haze, you are my sunshine." "I feel the same way about them," he said.
The amount of attention and love that Mabry gave to these children amounted in all the love he received from them. The students made a huge deal about his 80th birthday, the one he'll never forget.